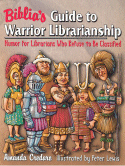 Buy the Book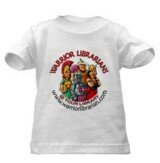 Online Store
Sales help keep WLW advertisement-free, by contributing to hosting costs.





Website and Content
Created and Maintained by: A.B. Credaro


Updated March 5, 2007

---
All correspondence concerning Warrior Librarian becomes the property of the same, and may possibly be published unless a statement is made to the effect that the correspondence is not intended for publication.

MASS MEDIA: Although Ingram Library Services Further Developments may not be a mass media publication, strictly speaking, at least they run a good story ...

CONFERENCES: Appearances by A.B. Credaro
MEMO: Fall, 2003.
SLAQ: June 29 & 30, 2004.
ASLA NSW: October 22 & 23, 2004.
CPTL: May 19 & 20, 2005.
ALIES Conference: April 1-2,2007

ACADEMIA: There are more than 37,000 links by academic institutions to Warrior Librarian from their web sites, including the Tasmanian Department of Education ...

INTERNET: Google now lists over 627,000 hits for a search on "warrior librarian". Not that we check regularly or anything ...

FROM THE MAILBOX: Many thanks to all those organizations and individuals who continue to offer us cheap valium. We didn't realize that the need was so obvious ...
... ... No more to read here >>
HEALTH AND WELL-BEING
Every one's calling in sick

Despite the amount of literature published on the health risks associated with working in libraries, it appears that few are heeding the call for more care, better climate control, and more frequent coffee breaks - even if your administration doesn't provide an espresso machine.
Even Library Fun took a serious look at this issue, providing references to Does Danger Lurk in the Library (Public Health 120, 2006, p. 776-777) and Are Public Library Books Contaminated by Bacteria? (Journal of Clinical Epidemiology, v. 47, no. 10, 1994, p. 1173-1174). For some reason, the 2004 treatice Losing the plot: Workplace stress in Australian school libraries (Access 18(4), pp 17-22) on the psychological dangers of library work was ommitted from the list.
At a major Australian library on one day last week, 45% of the staff were absent. Even the photocopying machine was listed amongst the names of the sick and weary ...
No more to read here >>
STEREOTYPING
Library men bare more than their souls

Texas Library Association has produced an 18 month calendar featuring a number of its male members. Which in no way is related to any of the language used in the book The higher power of Lucky.
According to the website, the publication is "a fundraising activity for the TLA Disaster Relief Fund, the calendar is also a celebration of the humor and complexity of that precious natural resource – men in library land!"
Sure, WLW was a little slow off the mark in bringing you this information, and you're not going to get much note-space value from the first two months, but there's still another 16 months you can scribble on, if the limited stock hasn't already sold out ...
No more to read here >>
WORKPLACE RELATIONS
Plan A foiled by dieting colleagues

Advice recently given by WLW, that unpopular co-workers may be able to curry some small amount of favour in the lunchroom by supplying high-calorie consumables with no nutritional value, may require modification at some worksites.
Reports have been made that some library staff lunchrooms are witnessing an escalation in the appearance of Lean Cuisine, tofu, yoghurt, fresh fruit and rabbit food salads.
Which is sure going to make things a little more difficult. The possible solution pictured here may not be quite appropriate, given that Harmony Day is rapidly approaching ...
No more to read here >>
PATRON SERVICES
Large print books 'difficult'

Library folk have spent many years grappling with the challenges of meeting the special needs of their library users, without even visiting the problem of appropriate acquisition programs funded by ever-shrinking budgets.
Perhaps one solution might be to purchase material unbound. The usual critics will no doubt bring up the issues of storage and display, but consider how much money the library will save by not having to repaint walls.
Next issue, unless something interesting happens, WLW might investigate the related issue of cheaper 'talking books' for the hearing impaired ...
No more to read here >>
LITERARY GIFTS
New title to be added

With the Warrior Librarian's birthday on 21st April rapidly approaching, WLW readers should be forewarned that it is expected that she will shortly be publishing the link for her Amazon wish list, which is likely to include 'Dr Verne's' book.
Publication of the link is usually prefaced by the information that WLW is free, but folks who want to show their gratitude for the provision of such excellence at such a reasonable cost should fork out their hard-earned money and send a book gift from the Wish List.
More whining and self promotion will probably follow, without any regard at all for the long-suffering Warrior Librarian Central support team, who have to keep moving their stuff to allow space for yet more book shelves and live under the constant threat of death by falling books ...
No more to read here >>
WLW ORIGINAL LIBRARY HUMOR
MORE ORIGINAL HUMOR
Laugh yourself comatose
Research has shown that the average librarian will take 10 to 15 minutes to read this web page. Anecdotal evidence suggests that many librarians fear they do not have enough time to investigate the humor links. The majority of the 110+ original library humor items (all written by Biblia, and not available anywhere else on the 'net) in the Humor Index are designed to take less than 2 minutes to read.
However, if you choose to hang around there for hours reading them all, then re-reading them, then WLW cannot take any responsibility. You now have the choice of using the genetically unmodified Alphabetical Index or the dolphin-safe Dewey Version. Caffeine-free version has been temporarily canned, pending an FDA investigation ...
MOST POPULAR BIBLIA PAGES TO DATE:
Caution: Will open in new window ...

Well, March certainly took me by surprise. Crept up and slapped me across the back of the head, and will no doubt run away and hide before I can take any action. As if that's not bad enough, the month didn't even have the good manners to take a number and wait in line for its turn.
There's going to be a lot of folk complaining about this, as they will almost certainly claim they had priority in the queue. Please be assured that I certainly didn't give any consent for March's pre-emptive strike and that everyone will get their opportunity. As many already have ...


The secret to success is to know when it's the right time to speak, and when to stay silent. And when it's the right time to stand and fight, and when to walk away. Unfortunately, I have the wrong type of watch.
Amanda Credaro Brain Farts

The amazing Concert Ticket Generator has almost endless diversionary possibilities. You can custom create invitations for weeded book sales, morning teas, colleagues birthday parties, even use as a substitute for those expensive wedding invitations ...

Hey there Warriorlibrarian I'm the webmaster of caustictruths.com which is a website for our print magazine. We have a featured story on Borat which is on our web site and potentially in a print edition. Your site was suggested as an addition to our very popular collection which will be useful for our visitors/readers. You can find the link to your web site here:

http://caustictruths.com/links/links.htm or http://www.caustictruths.com/links/links.htm

It will be under the category of Borat.

Drop me a line if you have any questions or comments.
Thank you,
Richard T.

What category?! This must have been covered in one of the lectures on cataloguing that I seem to have missed ...



Weird Calendar Days
Saint's Feast Days
Birthdays of famous authors
National Days
Historic Events
U.N. Special Events



Editor-in-Chief: A.B.Credaro
Sub-Editor: A.B.Credaro
Night Desk: A.B.Credaro
Head of Production: A.B.Credaro
Proof Reading: R. Shakespeare
Webmaster: A.B. Credaro
Layout: A.B. Credaro
Publicity: A.B.Credaro
Catering: D.E.Credaro
Hair Stylist: A.B. Credaro
Wardrobe Supervisor: A.B. Credaro


Note: The opinions expressed herein are solely those of the author. Any resemblance to real librarians (living or dead, or somewhere in between) or real libraries, may be a coincidence - but probably not.

Biblia, the Warrior Librarian, was created by A.B.Credaro. The practice of Warrior Librarianship is common, and therefore quite possibly in the public domain. As such, it is likely to be exempt from any copyright restrictions. However, this does not limit Warrior Librarian Weekly, its agents, employees, heirs, spouses, family pets, or others connected with the zine, from trying to make an easy buck from its use.

Universal permission is granted to any website to create a link to any page on this site. Notification of such links is appreciated, but not mandatory.

All material on this site was written by A.B. Credaro unless otherwise stated. Requests for permission to publish or circulate any content should be directed to same.



---
THE SPACE BELOW IS FOR OFFICE USE ONLY