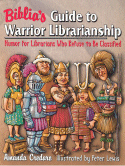 Buy the Book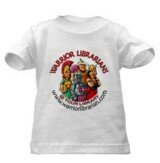 Online Store
Sales help keep WLW advertisement-free, by contributing to hosting costs.





Website and Content
Created and Maintained by: A.B. Credaro


Updated May 17, 2007

---
All correspondence concerning Warrior Librarian becomes the property of the same, and may possibly be published unless a statement is made to the effect that the correspondence is not intended for publication.

MASS MEDIA: Although Ingram Library Services Further Developments may not be a mass media publication, strictly speaking, at least they run a good story ...

CONFERENCES: Appearances by A.B. Credaro
MEMO: Fall, 2003.
SLAQ: June 29 & 30, 2004.
ASLA NSW: October 22 & 23, 2004.
CPTL: May 19 & 20, 2005.
ALIES Conference: April 1-2,2007

ACADEMIA: There are more than 30,000 links by academic institutions to Warrior Librarian from their web sites, including the Tasmanian Department of Education ...

INTERNET: Google now lists over 500,000 hits for a search on "warrior librarian". Not that we check regularly or anything ...

FROM THE MAILBOX: Many thanks to all those organizations and individuals who continue to offer us cheap valium. We didn't realize that the need was so obvious ...
... ... No more to read here >>
COMPETITIONS
Publishers announce huge prize

Want to get a half-share in US$10,000? The Thomson Gale company has announced their I Love My Library video competition. The winner gets to split the prize money with a library of their choice.
The contest is open to everyone, including librarians, and requires the making a video of between 30 seconds and two minutes "professing a deep, abiding love of libraries, librarians, and those who depend on them". There's no limit on the number of videos that can be entered, and no cost to participate.
More information is available on the website, but the competition closes at midnight ET on Friday May 25, with Big Brother style voting from June 1-11, 2007.
Meanwhile over in England, the first ever Love Libraries Award, run by The Museums, Libraries and Archives Council (MLA), will "recognise and reward English libraries that demonstrate innovation in services for teenagers and young people under 25, and encourage them to use the library time and time again."
The winner of the Love Libraries award will receive a Trophy and £2000 towards the project...
No more to read here >>
COLLECTION DEVELOPMENT
World's biggest specialist encyclopedia going online

A consortium of scientific experts, from institutions such as the US Field Museum, Harvard University, Marine Biological Laboratory (Woods Hole), Smithsonian Institution, and Biodiversity Heritage Library, the Natural History Museum in London and the Royal Botanic Gardens at Kew in London, have been pledged over £30 million in grants from charitable foundations and academic institutions to complete an Encyclopedia of Life (EoL).
The project has been in planning for 3 years, and could take another 10 years to complete. "The Encyclopedia of Life will provide valuable biodiversity and conservation information to anyone, anywhere, at any time," said Dr James Edwards, the project's executive director.
Covering "all the 1.8M known species of animals, plants and other forms of life", the website will provide open access to the information for scientists, policy makers, students and the public. Assuming they know about it, we suppose ...
No more to read here >>
TECHNOLOGY
Tool for Seniors and Boomers

Jeff Taylor, founder of Monster.com (454th registered domain on the Web), has done it again. This time, it's the Cranky search engine for over 50's.
The company information has Taylor inviting you "to start thinking about the unprecedented opportunity to travel and explore, to re-invent our careers, to nurture relationships, to give back to the community".
It's not as if library folk wouldn't like the opportunity to 'travel and explore' which is unfortunate given our salaries; and haven't we been trying to 're-invent our careers' - or at least come up with a jazzy new name that doesn't sound stodgy or daggy - for at least a decade?
And as for "giving back to the community", well, the less said about some of our patrons and their completely unrealistic expectations and demands, and not to mention the same for a significant number of library administrators and employers, probably the better...
No more to read here >>
WORKPLACE HARMONY
Who's sorry now?

In an ironic twist of fate, some poetic justice has recently been reported.
Following an orchestrated campaign of surliness, jealousy and ostracism that eventually led to the tearful resignation of a member of library staff, the Administration has heeded the advice that "we can do without her". Funding for a replacement has been refused.
Compounded by another librarian taking a long period of absence, the remaining staff now find that they are pretty much on perpetual Desk Duty in the very busy library, and reportedly "whining even more loudly than ever" ...
No more to read here >>
PATRON SERVICES
Fashion faux pas found to be counter-productive

The folk over at The Mountain Factory have a lot to learn, judging by their range of headwear.
Pictured is the Ice Breaker balaclava, which apparently is made out of SKIN200 fabric and has no bulk which makes it perfect under helmets. It also has elastic around the face opening will ensure it stays in place.
Which is all pretty nice, particularly in winter when the heating system can't cope, but really isn't going to win any friends for new staff or out at the desk.
Admittedly, it takes a little more effort, but maybe just telling a joke would be a more effective way of breaking the ice...
No more to read here >>
WLW ORIGINAL LIBRARY HUMOR
MORE ORIGINAL HUMOR
Laugh yourself comatose
Research has shown that the average librarian will take 10 to 15 minutes to read this web page. Anecdotal evidence suggests that many librarians fear they do not have enough time to investigate the humor links. The majority of the 110+ original library humor items (all written by Biblia, and not available anywhere else on the 'net) in the Humor Index are designed to take less than 2 minutes to read.
However, if you choose to hang around there for hours reading them all, then re-reading them, then WLW cannot take any responsibility. You now have the choice of using the genetically unmodified Alphabetical Index or the dolphin-safe Dewey Version. Caffeine-free version has been temporarily canned, pending an FDA investigation ...
MOST POPULAR BIBLIA PAGES TO DATE:
Caution: Will open in new window ...

I had my hair cut last week. Short. Don't ask me why, it just seemed a good idea at the time. (So I guess we're going to have to replace this picture, yet again.)
Which is often the same reason why we do things in our libraries, like deciding to make a 'minor' adjustment to a display then finding it sucking the life out of about the next three weeks.
Why doesn't any one stop us? Probably something to do with the way we convince ourselves that the Good Idea is bound to work out fine, with minimum time and effort. Sigh.


Many thanks to a colleague at Hurstville NSW who does not wish to be credited, for this very useful suggestion. She recommends that when library users ask if they can borrow nose-wiping apparatus ("tissues"), the appropriate response would be to indicate that there is no need to return them after use.
But wait! Don't we have a customer-service obligation? If patrons want to actually borrow anything, then the imperative is on supporting the request, if it falls within budget.
There are a number of benefits to this approach. Firstly, it will push up borrowing rate statistics, particularly in winter. Patrons not exercising appropriate hygiene standards can be tracked through circulation software when they deposit the soggy remnants in inappropriate places. Sure, placing clear contact over the bar codes will reduce absorption, and you're going to need an additional returns chute ...
No more to read here >>

A fast, but very amusing diversion for those who may never have given much thought to the mechanics underlaying Graphic User Interfaces (GUI). Just how does the cursor move across the screen?

When the page loads, there will appear to be a large blank spot in the middle - you need to move the mouse across this area to get the enlarged microscopic view ...

No more to read here >>

Libraries now devote far too much of their restricted space, and their limited budget, to public amusement. It is a fact of philistine life that amusement is where the money is.
William H. Gass, "In Defense of the Book", Harper's Magazine, November 1999.

Hi,
I work for a company called Cylon
We are a real company located in Scottsdale Arizona...our offices are at 8687 E Via de Ventura #209, Scottsdale, AZ 85258 and our office line is 480-368-2585.

We are interested in purchasing your website/domain from you. We can offer you $500, payable immediately. We can pay you via papal, credit card, wire transfer, western union, or mailing you a check - whichever method is easiest for you.
Let me know what you think. And thanks very much for your time!!
Thanks,
Jason

The emailed reply from WLW bounced. This company does not appear in any business registry for Scottsdale. A number of other businesses are listed for the address given. The phone number does not appear in any Yellow or White pages search. The Warrior Librarian domain name was independently valued at US$98,000. The content? Priceless. (But we'll always consider a good offer!)



Weird Calendar Days
Saint's Feast Days
Birthdays of famous authors
National Days
Historic Events
U.N. Special Events



Editor-in-Chief: A.B.Credaro
Sub-Editor: A.B.Credaro
Night Desk: A.B.Credaro
Head of Production: A.B.Credaro
Proof Reading: R. Shakespeare
Webmaster: A.B. Credaro
Layout: A.B. Credaro
Publicity: A.B.Credaro
Catering: D.E.Credaro
Hair Stylist: A.B. Credaro
Wardrobe Supervisor: A.B. Credaro


Note: The opinions expressed herein are solely those of the author. Any resemblance to real librarians (living or dead, or somewhere in between) or real libraries, may be a coincidence - but probably not.

Biblia, the Warrior Librarian, was created by A.B.Credaro. The practice of Warrior Librarianship is common, and therefore quite possibly in the public domain. As such, it is likely to be exempt from any copyright restrictions. However, this does not limit Warrior Librarian Weekly, its agents, employees, heirs, spouses, family pets, or others connected with the zine, from trying to make an easy buck from its use.

Universal permission is granted to any website to create a link to any page on this site. Notification of such links is appreciated, but not mandatory.

All material on this site was written by A.B. Credaro unless otherwise stated. Requests for permission to publish or circulate any content should be directed to same.



---
THE SPACE BELOW IS FOR OFFICE USE ONLY