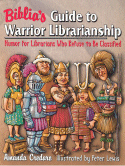 Buy the Book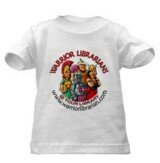 Online Store
Sales help keep WLW advertisement-free, by contributing to hosting costs.





Website and Content
Created and Maintained by: A.B. Credaro


Updated October 3, 2007

---
All correspondence concerning Warrior Librarian becomes the property of the same, and may possibly be published unless a statement is made to the effect that the correspondence is not intended for publication.

MASS MEDIA: Although Ingram Library Services Further Developments may not be a mass media publication, strictly speaking, at least they run a good story ...

CONFERENCES: Appearances by A.B. Credaro
MEMO: Fall, 2003.
SLAQ: June 29 & 30, 2004.
ASLA NSW: October 22 & 23, 2004.
CPTL: May 19 & 20, 2005.
ALIES Conference: April 1-2,2007

ACADEMIA: There are more than 30,000 links by academic institutions to Warrior Librarian from their web sites, including the Tasmanian Department of Education ...

INTERNET: Google now lists over 500,000 hits for a search on "warrior librarian". Not that we check regularly or anything ...

FROM THE MAILBOX: Many thanks to all those organizations and individuals who continue to offer us cheap valium. We didn't realize that the need was so obvious ...
No more to read here >>
INTERNATIONAL NEWS
Internationally known librarian reaches furthest limits of workplace endurance, complains, clears desk, leaves, writes reports, makes phone calls, sends emails, reads a bit, and hopes another job will just drop out of the sky or something because obviously there won't be any reference or recommendation
Unfortunately the headline took up just about all the available space. Therefore, as much as we'd like to bring you more on this story, we won't be able to report on what actually happened or anything ...
No more to read here >>
ACADEMIC LIBRARIES
Getting serious about plagiarism

Australian-based but international in scope, DOC Cop, is a relative late-comer in the global fight against users of online papers. Recently they have moved up a notch in their relentless pursuit of those unethical students who figure they're pretty safe and have no chance of getting caught.
Sure, DOC Cop offers a free basic service, and a new premium service at a quite reasonable charge, but a number of folk are revisiting the consequences for Serial Plagiarists. The award of a failing grade is just extending the agony for everyone; but is expulsion from a school sufficient punishment?
As institutions of learning are supposed to be a boiling cauldron of original thought, with the best minds money can buy (on a restricted budget, of course), you'd think they could come up with something more imaginative ...
No more to read here >>
SCHOOL LIBRARIES
ISLD looms large

Mark October 22nd in your diary, if you haven't already done it. Good chance that you've not only circled the date on a calendar, but also arranged guest speakers, sent news releases, recognised the contribution of other people in your school to the library programs, notified the IASL Newsletter Editor and/or the IASL Webmaster about your activities and shared your ideas with others, and arranged a book fair with an international theme.
You've still got a few weeks left if you're using the IASL's samples of suggested activities as a checklist.
If you've got enough energy left after doing all the preparation work, try to enjoy the day if you've still got the strength to get out of bed on that morning ...
No more to read here >>
PUBLIC LIBRARIES
So you think you've got vandalism problems?

The next time you're scrubbing graffiti off desks, or repairing a torn page, spare a thought for the Bhandarkar Oriental Research Institute Library.
According to Answers.com, the youth group responsible - the Sambhaji Brigade - is "an organisation of youths to eradicate castism, ritualism and to promote equality". The attack a few years ago, so there's no point in sending your old books there now, was apparently provoked because as the Institute provided assistance to a Western (not the cowboy sort, the non-Eastern type) writer Dr. James Laine. Laine discussed the telling and retelling of anecdotes about Shivaji's parentage and life in his book on narrations of the Shivaji story.
The moral of this story is, we guess, be careful which youth groups you allow to use your facilities ...
No more to read here >>
SPECIAL EVENTS
Stupid Question Day

You might have not had a chance to 'celebrate' the official Stupid Question Day, but at least you get to be part of it all the time, albeit inadvertently.
The Star Press has a good collection from a variety of professions in the East Central Ohio area, including two reports provided by librarians. And who would have thought that Library Folk would get asked such things? Except, as information professionals, we maintain a poker-face and respond appropriately to what we prefer to classify as 'unusual enquiries'.
The good news is the fact that we're not limited to just September 28th. Heck, just about any Librarian who has worked on The Desk for more than 5 minutes could provide at least one.
Collectively, the Librarians of the World could probably create more text on this topic than that contained in the combined 20 volumes of the Complete Oxford Dictionary (ISBN13: ISBN 9780198611868; ISBN10: ISBN 0198611862) ...
No more to read here >>
WLW ORIGINAL LIBRARY HUMOR
MORE ORIGINAL HUMOR
Laugh yourself comatose
Research has shown that the average librarian will take 10 to 15 minutes to read this web page. Anecdotal evidence suggests that many librarians fear they do not have enough time to investigate the humor links. The majority of the 110+ original library humor items (all written by Biblia, and not available anywhere else on the 'net) in the Humor Index are designed to take less than 2 minutes to read.
However, if you choose to hang around there for hours reading them all, then re-reading them, then WLW cannot take any responsibility. You now have the choice of using the genetically unmodified Alphabetical Index or the dolphin-safe Dewey Version. Caffeine-free version has been temporarily canned, pending an FDA investigation ...
MOST POPULAR WLW PAGES TO DATE:
Caution: Will open in new window ...
HUMOR
PROFESSIONAL

As we say in Australia, "it seems like a long time between drinks". The production schedule for WLW has once again been perhaps a little more than 'fractionally' off target.
But the good news is that the backlog of other matters has been pretty much cleared, and publication will resume for what passes for normal for Warrior Librarian. Sporadic at best. But considering what you're paying, you're still getting a pretty good deal.


If there's one thing that library folk like better than quality resources, it's free stuff. Many thanks to Jon Noble of Toronto (Australia) for alerting all to the Bookhunter online comic.
The author says " ... while this story is based on an actual case, it has been highly fictionalized. I took some liberties with architecture as well. For example, the library of this comic does not in fact exist. It is a hybrid of Oakland Main and the old Berkeley Central library " ...
No more to read here >>

There is a certain relief in change, even though it be from bad to worse; as I have found in travelling in a stage-coach, that it is often a comfort to shift one's position and be bruised in a new place.
Washington Irving

A MySpace search turns up "The Warrior Librarian" (pictured), which clearly isn't THIS Warrior Librarian. The MySpace "alternative" suggests giving up smoking and - wait for this! "civil and respectful". We're just making assumptions here, but we think she means being civil and respectful to EVERYONE.
Not one library rant, not one powerful (or even wimpy) invective on administration, salaries, working conditions, etc. How can this be a "warrior librarian" let alone the capitalised version?
The blog entries of this 'other' The Warrior Librarian quotes poetry such as "If I cried a tear", and observes "...Still thinking about love as I watch Cody [her son?] struggling through his recent breakup ...". Is this warrior librarian talk do we hear anyone ask? (Apart from us, we mean.)
And if that isn't bad enough, this one lists official 45 friends in her MySpace. Recently this (original) Warrior Librarian had an email that suggested forwarding it to 7 friends. OK, so we could only come up with three, but that's beside the point ...
No more to read >>

From the Zenith Information Management Services Newsletter:

What not to Do at Interview: Avoid ...¨ Poor personal hygiene – it should go without saying that you turn up for an interview with clean looking and smelling clothes, hair, teeth, shoes and skin – you want to be memorable for the right reasons and first impressions last!

Unfortunately they left out the important stuff, like not attacking the interviewer, verbally or physically. Academic research would clearly support the contention that this would also severely reduce your chances of employment. And if it didn't, you'd have to be worried about a whole lot of other issues ...



Weird Calendar Days
Saint's Feast Days
Birthdays of famous authors
National Days
Historic Events
U.N. Special Events



Editor-in-Chief: A.B.Credaro
Sub-Editor: A.B.Credaro
Night Desk: A.B.Credaro
Head of Production: A.B.Credaro
Proof Reading: R. Shakespeare
Webmaster: A.B. Credaro
Layout: A.B. Credaro
Publicity: A.B.Credaro
Catering: D.E.Credaro
Hair Stylist: A.B. Credaro
Wardrobe Supervisor: A.B. Credaro


Note: The opinions expressed herein are solely those of the author. Any resemblance to real librarians (living or dead, or somewhere in between) or real libraries, may be a coincidence - but probably not.

Biblia, the Warrior Librarian, was created by A.B.Credaro. The practice of Warrior Librarianship is common, and therefore quite possibly in the public domain. As such, it is likely to be exempt from any copyright restrictions. However, this does not limit Warrior Librarian Weekly, its agents, employees, heirs, spouses, family pets, or others connected with the zine, from trying to make an easy buck from its use.

Universal permission is granted to any website to create a link to any page on this site. Notification of such links is appreciated, but not mandatory.

All material on this site was written by A.B. Credaro unless otherwise stated. Requests for permission to publish or circulate any content should be directed to same.



---
THE SPACE BELOW IS FOR OFFICE USE ONLY