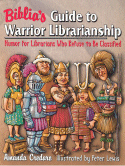 Buy the Book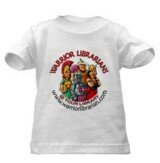 Online Store
Sales help keep WLW advertisement-free, by contributing to hosting costs.





Website and Content
Created and Maintained by: A.B. Credaro


Updated October 4, 2007

---
All correspondence concerning Warrior Librarian becomes the property of the same, and may possibly be published unless a statement is made to the effect that the correspondence is not intended for publication.

MASS MEDIA: Although Ingram Library Services Further Developments may not be a mass media publication, strictly speaking, at least they run a good story ...

CONFERENCES: Appearances by A.B. Credaro
MEMO: Fall, 2003.
SLAQ: June 29 & 30, 2004.
ASLA NSW: October 22 & 23, 2004.
CPTL: May 19 & 20, 2005.
ALIES Conference: April 1-2,2007

ACADEMIA: There are more than 30,000 links by academic institutions to Warrior Librarian from their web sites, including the Tasmanian Department of Education ...

INTERNET: Google now lists over 500,000 hits for a search on "warrior librarian". Not that we check regularly or anything ...

FROM THE MAILBOX: Many thanks to all those organizations and individuals who continue to offer us cheap valium. We didn't realize that the need was so obvious ...
No more to read here >>
LIBRARIAN MANIA
"The Librarians" set to break all records

The premier of the Australian Broadcasting Commission's much anticipated 6 part series, The Librarian is causing greater excitement and anticipation than the introduction of 13-digit ISBNs. Not that this would be hard to do, or anything.
Australia's premier library professional organization has opened a dedicated blog, imaginatively labelled The Librarians' Blog, which is pretty much what you'd expect, even if it hadn't been set up by librarians for librarians, and about The Librarians. Folk would have trouble coming up with anything more appropriate, we guess. Whatever.
The National Library of Australia, situated on the shore of Canberra's Lake Burley Griffin but well above the water line, is one of many institutions hosting a Premier Night. They're providing Drinks and Nibbles, which we hope conforms with their policy regarding food and beverages in the library ...
No more to read here >>
OCCUPATIONAL SAFETY AND HEALTH
Library Blues now documented

People who tend to the elderly, change diapers and serve up food and drinks have the highest rates of depression among U.S. workers. but library folk aren't far behind.
The report by the National Survey on Drug Use and Health (NSDUH) includes questions for adults aged 18 or older to assess lifetime and past year major depressive episode (MDE). It found that 10.8 % of people dealing with baby poop and seniors' issues exhibited clinical symptoms of employment-related depression, with 8.7% of librarians affected.
The 35-49 age group showed the highest rate of depression within the Information Professionals group (11.7%), while the rate of depression in the 50-64+ group dropped to nearly half (5.4%). The Report didn't detail whether this was related to having given up all hope.
Maybe if they showed something decent for librarians on TV ...
No more to read here >>
CONFERENCED
Dry T-shirt challenge announced

Despite there being only one vote so far, the title of Best T-Shirt seen at Conference - 'What happens in the library stays in the library' as worn by Vidar Lund, Vice President of the Norwegian Library Association - is way out in front, voting wise.
Another contender, "Warrior Librarians: Coming to a Library Near You" had a large number of votes, which were disqualified due to them all coming from a single individual.
Readers are invited to submit their pictures of their favorite Library-T, for a chance to win an autographed Warrior Librarian poster, as seen on the front of the Warrior Librarian book.
Any tees featuring the ABC's The Librarians will not be allowed unless individualised ...
No more to read here >>
LETTER OF THE WEEK
The Hollywood Librarian writes ...
Dear Amanda:

Sorry about the enormous wait time since your email. I was deep, deep, deep in editing at that point (which seems like years and years ago now), and the film wasn't completed until late May. Your email simply got snowed under an enormous pile.
Now I have completed my first coast-to-coast release in the US (see website www.hollywoodlibrarian.com), and so can start to do some clean up.
So tell me, what have you heard on the grapevine, if anything, about The Hollywood Librarian, lately? I'd love to know what you have picked up on.
~ann
Ann M. Seidl
Writer & Director
The Hollywood Librarian
Hi Ann,

No worries re delay in replying; unfortunately, I know that 'snowed under' feeling very well!
Nothing much on the grapevine re HL; there was an 'article' in LISNews, but nothing in Australia. ABC TV is about to release a new 6 part comedy series "The Librarians", which is getting a lot of attention from library folk, both on and off the listservs ...
No more to read here >>
WLW ORIGINAL LIBRARY HUMOR
MORE ORIGINAL HUMOR
Laugh yourself comatose
Research has shown that the average librarian will take 10 to 15 minutes to read this web page. Anecdotal evidence suggests that many librarians fear they do not have enough time to investigate the humor links. The majority of the 110+ original library humor items (all written by Biblia, and not available anywhere else on the 'net) in the Humor Index are designed to take less than 2 minutes to read.
However, if you choose to hang around there for hours reading them all, then re-reading them, then WLW cannot take any responsibility. You now have the choice of using the genetically unmodified Alphabetical Index or the dolphin-safe Dewey Version. Caffeine-free version has been temporarily canned, pending an FDA investigation ...
MOST POPULAR WLW PAGES TO DATE:
Caution: Will open in new window ...
HUMOR
PROFESSIONAL

No prizes for guessing what I'll be doing on the evening of October 31st! The only question is where I'll be watching the premier episode of the ABC's The Librarians.
Given my hectic social diary, it'll probably be at a private function, most probably at home in the TV room, which is likely to become known at some time in the future for tax purposes as the Warrior Librarian Central Auditorium; seating capacity of 8, if you count floor space ...


Drop into Bravenet for live chat with the Warrior Librarian, usually 9 pm to 10 pm, Sydney time (see clocks at bottom of page).
The red light below will be flashing green if the Warrior Librarian is online, just like in the real world, what ever that is ...
[Note: definitely off line on October 31st 2007.]

You could spend many hours improving your visual literacy at Symbols.com. The website is searchable by both a graphic index and word index, or generate a random sign just for the sheer joy of avoiding real work.
Also available is a book version which includes the 1,600 articles about 2,500 Western signs which are on the website, plus 100 pages of additional information. As the publishers didn't give WLW a review copy, we can't actually recommend the book as we haven't seen it. Ok, we'll admit that we don't do "subtle" very well here ...
No more to read here >>

Courage is not the absence of fear but the judgement that something else is more important than fear. The brave may not live forever, but the cautious do not live at all.
Meg Cabot

In line with the WLW policy of giving away stuff we didn't have to pay for, you can now print your own miniposter for the A(ustralian)B.C. TV comedy series, The Librarians.

If you haven't already heard about it, the show revolves around "Frances O'Brien, devout Catholic and panic disorder sufferer, who runs a very tight ship at the Middleton Interactive Learning Centre, a modern outer suburban library. Always quick to point out she 'doesn't make the rules' when in fact she does when it comes to her library. Despite the chronic vandalism, the dysfunctional staff and her own particular challenges ...


Weird Calendar Days
Saint's Feast Days
Birthdays of famous authors
National Days
Historic Events
U.N. Special Events



Editor-in-Chief: A.B.Credaro
Sub-Editor: A.B.Credaro
Night Desk: A.B.Credaro
Head of Production: A.B.Credaro
Proof Reading: R. Shakespeare
Webmaster: A.B. Credaro
Layout: A.B. Credaro
Publicity: A.B.Credaro
Catering: D.E.Credaro
Hair Stylist: A.B. Credaro
Wardrobe Supervisor: A.B. Credaro


Note: The opinions expressed herein are solely those of the author. Any resemblance to real librarians (living or dead, or somewhere in between) or real libraries, may be a coincidence - but probably not.

Biblia, the Warrior Librarian, was created by A.B.Credaro. The practice of Warrior Librarianship is common, and therefore quite possibly in the public domain. As such, it is likely to be exempt from any copyright restrictions. However, this does not limit Warrior Librarian Weekly, its agents, employees, heirs, spouses, family pets, or others connected with the zine, from trying to make an easy buck from its use.

Universal permission is granted to any website to create a link to any page on this site. Notification of such links is appreciated, but not mandatory.

All material on this site was written by A.B. Credaro unless otherwise stated. Requests for permission to publish or circulate any content should be directed to same.



---
THE SPACE BELOW IS FOR OFFICE USE ONLY