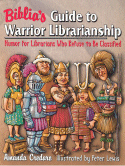 Buy the Book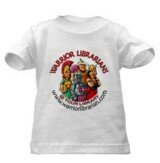 Online Store
Sales help keep WLW advertisement-free, by contributing to hosting costs.





Website and Content
Created and Maintained by: A.B. Credaro


Updated December 13 2007

---
All correspondence concerning Warrior Librarian becomes the property of the same, and may possibly be published unless a statement is made to the effect that the correspondence is not intended for publication.
MASS MEDIA


Although Ingram Library Services Further Developments may not be a mass media publication, strictly speaking, at least they know how to run a good story ...
---
PERSONAL APPEARANCES


MEMO: Fall, 2003.
SLAQ: June 29 & 30, 2004.
ASLA NSW: October 22 & 23, 2004.
CPTL: May 19 & 20, 2005.
ALIES Conference: April 1-2,2007
---
ACADEMIA


There are more than 30,000 links by academic institutions to Warrior Librarian from their web sites, including the Tasmanian Department of Education ...
---
INTERNET

Google now lists over 500,000 hits for a search on "warrior librarian". Not that we check regularly or anything ...
---
FROM THE SPAM FILTER


Many thanks to all those organizations and individuals who continue to offer us cheap valium. We didn't realize that the need was so obvious ...
No more to read here >>
COLLECTION DEVELOPMENT
Chance of a lifetime

Mark December 18 on your calendar immediately; Sotheby's New York is auctioning off the only original copy of the Magna Carta that is privately held.
According to the catalogue " ... The Magna Carta is the most famous document in history. Together with the Declaration of Independence it is perhaps the only document that everyone in the English-speaking world can claim to have heard of, if not to have read. The Declaration of Independence was printed on paper in relatively large numbers just over two hundred years ago. Magna Carta, by contrast, is not only nearly four times older, but handwritten in medieval Latin on a fragile membrane of parchment whose very survival is in itself little less than miraculous. No original Magna Carta has ever before been sold at auction, and it is quite possible that none ever will be again. Although fundamental to the emergence of North American liberties and law, Magna Carta itself has been jealously guarded in English public collections, and has only rarely crossed the Atlantic. No original other than this remains in private hands, not even in the hands of the English royal family ...". (At a total of 53 pages, that's some catalogue entry!)
So empty out those photocopier cash boxes, check under chairs for loose change, increase those library fines. You're only going to have to scrape together around US$30 million ...
No more to read here >>
CATALOGUING
Vale: AACR2

Reasonably reliable reports have indicated that AACR2 will be replaced in 2009 by a set of new cataloguing rules called Resource Description and Access.
As a service to WLW readers, this publication is proud to be able to refer its faithful follower to the instructions on how to tear very thick books in half. Although the website refers specifically to telephone books, the author Clay Edgin who is (apparently) #1 Certified Gripper King and Grip Monster provides advice on how to destroy 2-inch thick bundles of paper.
Although the current AACR2 weighs in at significantly more, thickness wise, we have every confidence in the ability of librarians to demonstrate more than mere shushing and stamping things ...
No more to read here >>
EMERGING TRENDS
New type of book challenge

Many thanks to Judi Jagger, fellow (CSU) Library School alumnus, for drawing our attention to The Happy Endings Foundation, which seeks to "eradicate sad thoughts from all literature", amongst other goals.
Testimonials for the Foundation include "Thanks to THEF, I can now sleep with the light off and never feel scared" and "It's really helped with my job. My outlook has completely changed and I always feel positive."
There's an excellent video which you wouldn't want your Budget Committee to see you watching (reason enough to watch it, we'd say), together with other related information. Note particularly the Gerbil Activists in action (pictured above).
Despite the original fears of UK Librarians, it's probably OK for those with a sense of humor. However, WLW does not accept any liability for damage, loss or other aspects relating to the viewing ...
No more to read here >>
READER SERVICES
Grouchman celebrates

Colin Grouchman (not his real name), made famous for his views on the value of books, reading, studying, domestic tidiness, etc, made it to his 21st birthday - despite predictions of the visitation of plagues of locusts and choking by dust bunnies from under his bed.
The internationally renowned reluctant reader who discovered the joys of literature through popular magazines aimed at his particular niche, has not had an overdue library book for over 5 years.
Whilst this may largely be due to his lack of actually borrowing anything, it is indeed a credit to his upbringing. In fact, Grouchman was recently referenced in the Sydney Morning Herald for his fine community spirit ...
No more to read here >>
CINEMAGRAPHO-LITERATURE
Moral Rights abuse?

In yet another one of life's great ironies, it seems that art is imitating art, albeit from a different genre.
Way back in 2001, WLW published a list of fictitious Thin Books for Busy Librarians. Amongst the titles listed was Successful Introduction of Beowulf for Reluctant Readers.
The way we figure it, Paramount should at least give WLW a credit under IP moral rights grounds on the official website, or a nice thank you card, or maybe even a box of chocolates. Because it's pretty obvious that any actual financial remuneration would most likely be out of the question ...
No more to read here >>
WLW ORIGINAL LIBRARY HUMOR
MORE ORIGINAL HUMOR
Laugh yourself comatose
Research has shown that the average librarian will take 10 to 15 minutes to read this web page. Anecdotal evidence suggests that many librarians fear they do not have enough time to investigate the humor links. The majority of the 110+ original library humor items (all written by Biblia, and not available anywhere else on the 'net) in the Humor Index are designed to take less than 2 minutes to read.
However, if you choose to hang around there for hours reading them all, then re-reading them, then WLW cannot take any responsibility. You now have the choice of using the genetically unmodified Alphabetical Index or the dolphin-safe Dewey Version. Caffeine-free version has been temporarily canned, pending an FDA investigation ...
MOST POPULAR WLW PAGES TO DATE:
Caution: Will open in new window ...
HUMOR
PROFESSIONAL

The last week has been interesting, in many ways (including that old Chinese Curse sort). Finished the Christmas shopping, and having a browse through the mall, and what should happen? Lured unsuspectingly into a retail service facility by a false promise of "great prices and service", where I was held captive by hairdressers for over 5 hours!
But I paid the ransom, and escaped with what's left of my hair only moderately hacked up. Perhaps the worst part of the whole ordeal was the lack of caffeine intake. Let this be a lesson for us all, particularly me. Library work can be very stressful. Since the start of this year, I've lost over 90% of my hair ...

THE WLW TEAM WELCOMES ...

Joining the WLW team, Rex Libris brings his own special library skills to complement the WLW Philosophical Advisor, Buddha; Business Manager, Frank Burns (from the Simpsons); Egyption God of Scribes, Toth; Street Cred Guru Big Bird (from Sesame Street); and many other characters of note.
Rex, who traveled from California to Sydney Australia in an 8-inch high box, got straight onto the job on arrival. Luckily, Bryan Dobrow of SLG Publishing recommended springing the US$22.70 to enable Libris to travel First Class. Costs for the Rosemary, our official WLW Proofreader, would be much higher, but then she probably wouldn't be happy traveling in a small cardboard box, regardless of how much packing material was used. Some people are just like that, aren't they?
When the official WLW Digital Camera Operator has a few free moments, we hope to be able to bring you the whole team photograph ...
No more to read here >>

ThinkGeek's Wi-Fi Detecting T-shirt not only displays the presence of a network, but also the signal strength.
Other products also include an Annoy-a-tron and an 8-bit tie. Whilst WLW cannot actually vouch for any of these products, they sure sound pretty good.
The ThinkGeek guys say "Here at ThinkGeek we're pretty lazy when it comes to technology. We expect our gadgets to do all the busywork while we focus on the high level important tasks like reading blogs.
So, if nothing else, library folk can be assured together with ThinkGeek, we're all on the same wavelength, or possibly the same page. We have the same shared values and priorities ...
No more to read here >>

My mind is full of splendid memories of Africa which I can revive and look at when I want. How about those sunsets, gold and purple and orange, spreading across the sky at evening ... But there are other memories. A young man, eighteen perhaps, is in tears, standing in his "library." A visiting American seeing a library without books, sent a crate, but this young man took each one out, reverently, and wrapped them in plastic. "But," we say, "these books were sent to be read, surely?" and he replied, "No, they will get dirty, and where will I get anymore?"
© THE NOBEL FOUNDATION 2007

Doris Lessing, 2007 Nobel Prize Lecture


Weird Calendar Days
Saint's Feast Days
Birthdays of famous authors
National Days
Historic Events
U.N. Special Events



Editor-in-Chief: A.B.Credaro
Sub-Editor: A.B.Credaro
Night Desk: A.B.Credaro
Head of Production: A.B.Credaro
Proof Reading: R. Shakespeare
Webmaster: A.B. Credaro
Layout: A.B. Credaro
Publicity: A.B.Credaro
Catering: D.E.Credaro
Hair Stylist: A.B. Credaro
Wardrobe Supervisor: A.B. Credaro


Note: The opinions expressed herein are solely those of the author. Any resemblance to real librarians (living or dead, or somewhere in between) or real libraries, may be a coincidence - but probably not.

Biblia, the Warrior Librarian, was created by A.B.Credaro. The practice of Warrior Librarianship is common, and therefore quite possibly in the public domain. As such, it is likely to be exempt from any copyright restrictions. However, this does not limit Warrior Librarian Weekly, its agents, employees, heirs, spouses, family pets, or others connected with the zine, from trying to make an easy buck from its use.

Universal permission is granted to any website to create a link to any page on this site. Notification of such links is appreciated, but not mandatory.

All material on this site was written by A.B. Credaro unless otherwise stated. Requests for permission to publish or circulate any content should be directed to same.



---
THE SPACE BELOW IS FOR OFFICE USE ONLY