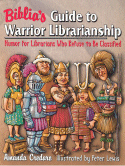 Buy the Book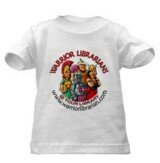 Online Store
Sales help keep WLW advertisement-free, by contributing to hosting costs.





Website and Content
Created and Maintained by: A.B. Credaro


Updated September 14 2008

---
All correspondence concerning Warrior Librarian becomes the property of the same, and may possibly be published unless a statement is made to the effect that the correspondence is not intended for publication.
MASS MEDIA


Although Ingram Library Services Further Developments may not be a mass media publication, strictly speaking, at least they know how to run a good story ...
---
PERSONAL APPEARANCES


MEMO: Fall, 2003.
SLAQ: June 29 & 30, 2004.
ASLA NSW: October 22 & 23, 2004.
CPTL: May 19 & 20, 2005.
ALIES Conference: April 1-2,2007
---
ACADEMIA


There are more than 6,000 links by academic institutions to Warrior Librarian from their web sites, including the Tasmanian Department of Education ...
---
INTERNET

Google now lists over 73,000 hits for a search on "warrior librarian". Not that we check regularly or anything ...
---
FROM THE SPAM FILTER


Many thanks to all those organizations and individuals who continue to offer us cheap valium. We didn't realize that the need was so obvious ...
No more to read here >>
COPYRIGHT INFRINGEMENT
A series of unfortunate usages

Whilst this publication has never rejected any free publicity, the unauthorised use of the Warrior Librarian Logo over at Andrys Basten's website has now been amicably settled.
Basten published the infamous Anne Kilkenny letter, which included the even more infamous statements relating to Sarah Palin on the sacking of a Library Head and the banning of books. The unauthorised use of the WLW logo left a few red faces around the Blog-O-Sphere, implying as it did that WLW was in some way connected.
The matter has now been resolved with the insertion of the information that there is no connection between this publication, its employees, associates, next door neighbours, family pets, or others, with Anne Kilkenny, Sarah Palin, or indeed American electoral campaigns in general. Heck, we only voted in the Australian elections to avoid get fined.
All that aside, it must be said that with Palin's fine sense of appropriate dress, and her sharp tongue, together with the ability to bite the heads off wolves, in addition to the power to command entire militia into battle, she has serious potential as a librarian if the other thing doesn't work out for her ...
No more to read here >>
COLLECTION DEVELOPMENT

If you happen to be around King Street, London on September 25, you could do worse with your time than dropping into Christie's and making a bid on the Matteo Ricci manuscript.
For the collection purists, the manuscript has "light spotting and browning, tiny marginal hole and three tiny worm holes to title, these latter extending to the first two text leaves only, tiny marginal hole to Ccc3, short marginal tear to Xxx4.) Contemporary flexible vellum with red edges (spine slightly discoloured, some light worming to upper cover). Provenance: Rome Jesuit Library, donation of Bishop Zacynthius (ink inscription in 17th century hand to title). "
Almost a steal at an estimated $26,280 - $35,040, according to the auction house "only one copy of this extremely rare first edition" (1659) has sold at auction since 1975.
It's a copy? So, like, how much is the original worth ...
No more to read here >>
STEREOTYPE BUSTING
Not your average librarian

Mlive.com, out of Michign reports "Elderly ex-librarian found guilty in three bank robberies".
A forensic examination that determined the 61-year-old Jacquelyn J. King is competent to stand trial and assist in her own defense. King faces three counts of bank robbery, each of which carries a maximum sentence of life in prison.
Geez, the woman resigned 14 years ago from library work, but seems will always be known to the media as an "ex-librarian". Besides which, since when did 61 years old qualify as elderly? For Pete's sake, we've got sets of encyclopedia that are older than that ...
No more to read here >>
PROFESSIONAL DEVELOPMENT

The ULM Library will observe two important milestones with a program and reception titled "Celebrating 60 Years of Documents" at 1 p.m. Sept. 25 in the University of Louisiana at Monroe's Conference Center.
The library will commemorate 60 years as a charter member of the Louisiana State Documents Depository Program and 45 years as a member of the Federal Depository Libraries Program. Charlene Cain, head of access services at the LSU Law Library, will speak from 1 to 2 p.m. in the ULM Conference Center. Her lecture is about "The Cornerstone of Democratic Values: The Librarian's Role in Access to Government Information."
While this may be a more significant paper that "The Lighter Side of Librarianship", the staff of Warrior Librarian Weekly don't think its going to be as much fun ..."
No more to read here >>
WLW ORIGINAL LIBRARY HUMOR
MORE ORIGINAL HUMOR
Laugh yourself comatose
Research has shown that the average librarian will take 10 to 15 minutes to read this web page. Anecdotal evidence suggests that many librarians fear they do not have enough time to investigate the humor links. The majority of the 110+ original library humor items (all written by Biblia, and not available anywhere else on the 'net) in the Humor Index are designed to take less than 2 minutes to read.
However, if you choose to hang around there for hours reading them all, then re-reading them, then WLW cannot take any responsibility. You now have the choice of using the genetically unmodified Alphabetical Index or the dolphin-safe Dewey Version. Caffeine-free version has been temporarily canned, pending an FDA investigation ...
MOST POPULAR WLW PAGES TO DATE:
Caution: Will open in new window ...
HUMOR
PROFESSIONAL

At the time of going to press, less than two weeks remains until the WLW crew arrive in New York, NY. The matter of which shoes has almost been solved, although not the mechanics of transporting them.
The minor matters such as the payment of standing household utility accounts; how to change the toilet paper roll; care and feeding of home-staying family members; etc will be dealt with - probably on the morning of departure, if there's sufficient time.
Trust me on this; a stress-free life, whether at work in a library or anywhere beyond, is simply a matter of prioritizing ...

PETER LEWIS @ THE LIBRARY

No more to read here >>

Here's another fun little way to amuse yourself for a few minutes. Life Magic allows you to undergo life-enhancing cosmetic surgery without the time, expense or pain. It's also a much easier and faster way to doctor photos (if you'll excuse the pun) than image editing software that costs almost as much as the surgery and freezes your computer ...
No more to read here >>

Watch Seinfeld clip his toe nails, and Bill Gates reject a burger with gum, as they try to experience life with 'plain folks' by living with an 'average' family. Not everyone will think it's funny. But then that's pretty much the story for all humor, isn't it?

Nothing travels faster than the speed of light with the possible exception of bad news, which obeys its own special laws.

Douglas Adams in Mostly Harmless


Weird Calendar Days
Saint's Feast Days
Birthdays of famous authors
National Days
Historic Events
U.N. Special Events



Editor-in-Chief: A.B.Credaro
Sub-Editor: A.B.Credaro
Night Desk: A.B.Credaro
Head of Production: A.B.Credaro
Proof Reading: R. Shakespeare
Webmaster: A.B. Credaro
Layout: A.B. Credaro
Publicity: A.B.Credaro
Catering: D.E.Credaro
Hair Stylist: A.B. Credaro
Wardrobe Supervisor: A.B. Credaro


Note: The opinions expressed herein are solely those of the author. Any resemblance to real librarians (living or dead, or somewhere in between) or real libraries, may be a coincidence - but probably not.

Biblia, the Warrior Librarian, was created by A.B.Credaro. The practice of Warrior Librarianship is common, and therefore quite possibly in the public domain. As such, it is likely to be exempt from any copyright restrictions. However, this does not limit Warrior Librarian Weekly, its agents, employees, heirs, spouses, family pets, or others connected with the zine, from trying to make an easy buck from its use.

Universal permission is granted to any website to create a link to any page on this site. Notification of such links is appreciated, but not mandatory.

All material on this site was written by A.B. Credaro unless otherwise stated. Requests for permission to publish or circulate any content should be directed to same.



---
THE SPACE BELOW IS FOR OFFICE USE ONLY