Search this site

Site Map

Humour Index



Librarian's Diversions

Librarianship Journals

Fun Stuff

Controversy Corner







Last Week's Comments

Archived Comments

Recommended Links


Created and Maintained by: A.B. Credaro



Updated
March 4, 2002




---
Early March, 2002
LEONARDO'S FORESIGHT
Early book mobile plans
Although first thought to be a weapon of war, recent research shows that Da Vinci's drawing was actually a bookmobile prototype for inner city areas ....
(There is no more to read)

WLW RESEARCH COLUMN
Overpaid Librarians
A search using Google produces 2 hits for the phrase "overpaid librarians", but one is a mirror copy of the other site. There were 9 results for "underpaid librarian" and 148 for "unemployed librarian". Do these ratios indicate any global trend? ...
(There is no more to read)



SCREAMING MEDIA
Garage Sale Libraries
The Sydney Morning Herald Online reveals that librarians are filling empty library spaces with junk, classifying it as realia, and going for an artsy look ... click here. (Requires Real Player or similar gizmo)


SHAMELESS SELF PROMOTION
Call to arms?
Biblia has somehow made it onto the ArmedForces.Net site. I wonder if they realise that "warrior librarian" is just a parody, or if they actually expect some heavy armament from this quarter? Guess I could send them a copy of my Concerns File, because that would cause a lot of damage if dropped from any height ...
(There is no more to read)


LATEST HUMOR PAGE
Harry Potter Activities
So everyone wants to ride the crest of Pottermania, and get kids to move beyond the text and into the learning domain. Here's some fun stuff for librarians, and a bit for the kids too ... (Click here)


MORE ORIGINAL HUMOUR
Laugh yourself comatose.
No, folks, WLW isn't just yet another directory of humor. The Humor Index contains over 60 original humor items by Biblia - except for one guest item, exclusive to WLW. Oh, and one well-known piece off the 'net that people expect to see on any library humor site. But the rest is original. Honest. Use the new improved index! Now in alphabetical order, even. Click here for the US version or here for the English version or at the bottom of this page for those with a sinking feeling, or at the top left hand side, or ....

MOST POPULAR BIBLIA PAGES
From last month's hit counter:




WHAT'S NEW?




IN THE NEWS:

Newspaper discovers WLW:

The Sydney Morning Herald lists this journal in its New Site Launches column, in the February 2, 2002 edition. This is a mere 8 months after the site went live...that's journalism, folks!



Refugee Support:


Biblia sends culled web sites to help in formation of foundation collection for library on Island of Bompi.



WORKPLACE STRESS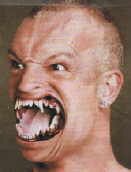 Ongoing studies support the earlier findings that stress is increasing among library workers.


Librarian's Health?:
Maybe its not your working conditions making you sick...it could be your worksite. Check out the article on moldy books.



ARCHIVED ISSUES
| | |
| --- | --- |
| Early Sept, 2001 | |
| Mid Sept, 2001 | |
| Mid October, 2001 | |
| Late October, 2001 | |
| Mid November, 2001 | |
| Late November, 2001 | |
| Early December, 2001 | |
| Late December, 2001 | |
| Mid January, 2002 | |
| Mid February, 2002 | |