Created and Maintained by: A.B. Credaro
Updated
May 8, 2002
---
---
Note: The opinions expressed herein are soley those of the author. Any resemblance to real librarians (living or dead, or somewhere in between) is probably a coincidence, but maybe not.
Biblia, the Warrior Librarian, was created by A.B.Credaro. The concept of Warrior Librarianship is in common practice, and therefore quite possibly in the public domain. As such, it is likely to be exempt from copyright restrictions. However, this does not limit Warrior Librarian Weekly, its agents, employees, heirs, or others connected with the zine, from trying to make an easy buck from its use.
Graphics on this site were created by Peter Lewis, unless otherwise stated. These graphics were created exclusively for Warrior Librarian Weekly, and may not be copied without consent, which will only be granted after an obscenely large amount of money has changed hands ... which really isn't likely to happen, is it?
Early May, 2002
LIBRARIANS IN HISTORY
Moses fined for damage
| | |
| --- | --- |
| More "Little Known Librarians of Antiquity" can be found in the book, Warrior Librarian Gold Edition, to be released later this year by Libraries Unlimited. | A recently discovered document (dated 1446 BC) shows that Moses checked out two stone tablets from the Mt Sinai Library. He was later charged replacement costs by the librarian, Tess. T. Meant. The resources were returned waterlogged, smoke damaged and had maps of Egyption deserts scribbled on the back ... ...(There is no more to read) |

WLW RESEARCH COLUMN
Quantitative 'Net Analysis
Scientifically researched analysis of the benefits of the Internet have now been completed. A search using Google has revealed nearly 93 million hits for the term "best", and approximately 5.5 million hits for the term "worst". Therefore, there must be more good stuff on the 'net than bad stuff. Any kid under the age of 16 can (and will) confirm this...
... (There is no more to read)



SCREAMING MEDIA
Relaxing TV.com
Ideal for anxiety-ridden librarians. You can watch fish swimming, sunsets, beach scenes, etc. Coming soon is grass growing, paint drying, compost developing.
... click here. (Needs broadband access. Does that stress you even more?)


SHAMELESS SELF PROMOTION
Keynote Address Invitation
The Warrior Librarian has been invited to deliver the keynote address at the annual state conference of the Minnesota Educational Media Organization (MEMO). There is only 9,005 miles/14,492 km (or 7825 nautical miles if she has to swim) to be covered. Organisations, companies or individuals who would like to sponsor the travel component of the costs can send cash or airline tickets to this website via the D-Drive of their computer. Please make sure that banknotes are ironed flat before insertion ...
(There is no more to read)


LATEST HUMOR PAGE
Merit Badges for Librarians
The Boy Scouts, the Girl Guides, and even the armed services have merit badges - and now it's time Librarians had their skills recognised ...
... (Click here to view in new window)


LESS TARDY HUMOR PAGE
Harry Potter Sequels
With Harry Potter 5 already the world's most eagerly awaited publication (with the possible exception of Warrior Librarian Gold Edition), WLW blows the lid on the whole series - right up to HP 80. Read the plot summaries ...
... (Click here to view in new window)


MORE ORIGINAL HUMOUR
Laugh yourself comatose.
No, folks, WLW isn't just yet another directory of humor. The Humor Index contains over 60 original humor items by Biblia - except for one guest item, exclusive to WLW. Oh, and one well-known piece off the 'net that people expect to see on any library humor site. But the rest is original. Honest. Use the new improved index! Now in alphabetical order, even. Click here for the US version or here for the English version or at the bottom of this page for those with a sinking feeling, or at the top left hand side, or ....

MOST POPULAR BIBLIA PAGES
From last month's hit counter:




NEW BOOKS




REAL NEWS:

WLW News Service:

Headlines from around the world, featuring libraries, librarians and librarianship (but excluding Laura Bush). Updated almost hourly. [actually updated when the Warrior Librarian gets around to it]



COMMENTARY:

Library Manners:

Workplace violence expert finds that rudeness to co-workers and "customers" causes tension. And he gets paid for saying this?



COMPETITION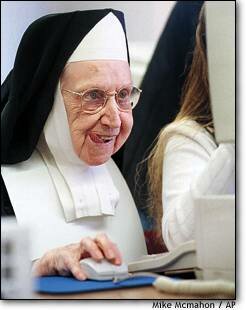 Win a church by identifying the web site being viewied ...




Mystery Solved:

Library administration techniques unearthed - now we know where administrators get their ideas.
Warning: Not for the easily offended



DEADLY SERIOUS

'Net Rip-offs

Is your work being plagiarised? What can you do about it? How can you avoid being a not-so-innocent (legally) by-stander?


ARCHIVED ISSUES



---
Make your own notes in this space