See our real awards >>
Created and Maintained by: A.B. Credaro
Updated
July 31, 2002
Note: The opinions expressed herein are solely those of the author. Any resemblance to real librarians (living or dead, or somewhere in between) or real libraries, may be a coincidence - but probably not.
Biblia, the Warrior Librarian, was created by A.B.Credaro. The practice of Warrior Librarianship is common, and therefore quite possibly in the public domain. As such, it is likely to be exempt from any copyright restrictions. However, this does not limit Warrior Librarian Weekly, its agents, employees, heirs, spouses, family pets, or others connected with the zine, from trying to make an easy buck from its use.
Late July, 2002
LIBRARY ADMINISTRATION
Latest Graduants
So you think your last library manager was a tough cookie? The new graduates from the Darth Vader School of Library Management have been trained in alternative conflict resolution skills, downsizing strategies, and budget application rejection methods ....
...There is no more to read >>

RESEARCH COLUMN
Quality Collections
A search with Google for "good books" produces 4,800,000 results, whilst a search for "cheap books" yields a harvest of a mere 1,290,000. This obviously indicates that the average library can only afford approximately 25% of quality resources on the market. Feel free to share this latest research with your library board ...
... There is no more to read >>



SCREAMING MEDIA
Las Vegas Culture
Scan through the lobby of the MGM Grand Hotel, and see what people are reading. Or maybe check in poolside at Hard Rock...
... Pick a camera >>


SHAMELESS SELF PROMOTION
Conference Appearances
Following a threat of an invitation from Minnesota earlier this year, another email has been received. This is possibly another request to speak in California next year, maybe. But Wollongong in September, 2002, is definite (see link to presenters) ...
...There is no more to read >>


LATEST HUMOR PAGE
New Portal
Overwhelmed with information? Important Stuff is a directory that features only those sites that you really need ...
... ( View in new window >>)


LESS TARDY HUMOR PAGE
Interpreting Library Job Ads
Found what seems like a really great job advertised? Things may not be as peachy as they sound ...
... (View in new window >>)


MORE ORIGINAL HUMOR
Laugh yourself comatose.
No, folks, WLW isn't just yet another directory of humor. The Humor Index contains over 60 original humor items by Biblia - except for one guest item, exclusive to WLW. Oh, and one well-known piece off the 'net that people expect to see on any library humor site. But the rest is original. Honest. Use the new improved index! Now in alphabetical order, even. Click here for the US version or here for the English version. Swedish and Japanese versions still to come ....

MOST POPULAR BIBLIA PAGES
From last month's hit counter:



The Skeptics Dictionary - examines such tasteful practices such as Urine Therapy.
More >>


WHO WOULD HAVE GUESSED ...

Apparently not everything in textbooks is true ...
More >>
"The ability to quote is a serviceable substitute for wit." - W. Somerset Maugham ...
More >>

COMPETITION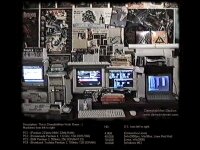 Where in a library would you use this, and why?


Just how difficult is it to get an award for your website? Click the image below to solve one of life's insignificant mysteries.



---
Make your own notes in this space