Biblia's Guide for Warrior Librarians was released in March, 2003, by Libraries Unlimited. Click here for more information.
BUY THE BOOK!
WARRIOR LIBRARIANS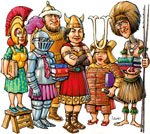 COMING SOON TO A LIBRARY NEAR YOU
Graphic by Peter Lewis
Created and Maintained by
A.B. Credaro
Page Created
April 22, 2003







The page is unavailable. Please visit the main one.