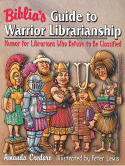 CLICK HERE
for more information about this book.
Editor-in-Chief:
A.B.Credaro

Sub-Editor:
A.B.Credaro

Night Editor:
A.B.Credaro

Head of Production:
A.B.Credaro

Webmaster:
A.B. Credaro

Layout:
A.B. Credaro

Publicity:
A.B.Credaro

Catering:
A.B.Credaro

Hair Stylist:
A.B. Credaro

Wardrobe Supervisor:
A.B. Credaro

Correspondence to:

CONFERENCE APPEARANCES BY A.B.CREDARO


M.E.M.O.North Dakota,USA - October, 2003: Confirmed.

S.L.A.Q., Queensland, Australia - June 2004: Invitation accepted.

California, USA - November 2004: Correspondence still continuing (for two years).



---

Note: The opinions expressed herein are solely those of the author. Any resemblance to real librarians (living or dead, or somewhere in between) or real libraries, may be a coincidence - but probably not.



Biblia, the Warrior Librarian, was created by A.B.Credaro. The practice of Warrior Librarianship is common, and therefore quite possibly in the public domain. As such, it is likely to be exempt from any copyright restrictions. However, this does not limit Warrior Librarian Weekly, its agents, employees, heirs, spouses, family pets, or others connected with the zine, from trying to make an easy buck from its use.

All material on this site was written by A.B. Credaro unless otherwize stated. Requests for permission to publish or circulate should be directed to same.



---
THIS SPACE HAS BEEN LEFT BLANK FOR YOUR ROUGH NOTES
Late April 2003 Archived Edtion
SERIAL LIBRARIANSHIP
Yet another change
SYDNEY, Australia: Industry sources have been strangely silent on the installation of the new masthead for Warrior Librarian Weekly. It was expected that as the journal had kept the same name for well over the statutory 12 month period, it would follow the lead of all major serials and change its name, rather than its appearance.
Printing Press
In a candid interview with herself, the zine's editor-in-chief A.B. Credaro stated that she felt it was time for an update. "It gets pretty tedious looking at the same old thing every day, and with online graphics generation being so easy, I just spent some time playing around to get something that looked reasonable. "
"I guess I should go back through all the old pages and change the banner on the rest of them, but its just one of those things that I'll probably never get around to doing. Who knows?"
She went on to add that although the periodical had not changed its main title, the subtitle had been changed. It used to be the zine for librarians "who refuse to be classified" and is now "that defy classification". This should be enough to stuff up the catalog entries. Which is really the only purpose of changing the titles of serials anyway ...
... There is no more to read >>
INFORMATION LANDSCAPE
Australia now center of universe
Dateline, The Internet: International journalists are apparently using Australian news sources to keep up to date with recent developments. The use of Bloomberg Australia to expose the American Airways executive bonus decision has broken new ground.
Screenshot from Google News
Research is continuing into this latest strategy for information dissemination. Latest hypotheses include the efficiency of the Bush Telegraph, the quality of advertising displayed with news items, and the laconic presentation of Australian anchor-people. Historically, Australian news sources were the first to break stories on major world events such as the Australian Cricket Team's injuries and indiscretions, the victories of Australian swimmers, Australian fashions, Australian politics, Australian libraries ....
... There is no more to read >>
LIBRARY ALERT
Latest Hazard Warning
Cloncurry, Qld: Reports are being received from around the nation, of innocuous appearing older people in libraries. Their modus operandi is to talk quietly, be polite, and use great care with handling resources.
Older reader
Library unions are issuing warnings about these Citizens of Age. All library staff should return any pleasantries offered, and help as requested - but be ever vigilant in case they are being accompanied by grandchildren.
It is here that the main menace lies. Parents are apparently under the impression that their children will behave in libraries, regardless of who has nominal supervisory responsibilities. While "poppy" or "nanna" reads their book, young Junior is tearing up magazines, inserting pencils into floppy drives, and defacing walls with crayons or worse.
However, the greatest danger seems to be those older readers who, after being heavily engrossed in a library-related activity, exit and forget to take their young charges with them ...
... There is no more to read >>
COLLECTION MAINTENANCE
Is Less Better?
Cradle Mountain, Tasmania: Someone once said something about it's not the quantity, but the quality, of the books in your library that is important. Only they said it in less words, or they had the words around the other way or something, so it sounded better.
Well-culled library
Guidelines and standards for libraries will quote figures at you, but if you are going to ensure the highest quality library that your budget allows, maybe you should consider the approach that famous sculptors like Rodin use. You take your block of marble (or your library collection), and remove what shouldn't be there.
So, after you've removed the dated material, things with inappropriate content, stuff that might cause a challenge, stock that hasn't been borrowed for years, damaged and unrepairable resources, and anything else that your policies indicate should be removed, and replaced what you can with the budget you have, you should be left with ....
... There is no more to read >>
LATEST HUMOR PAGE
10 Top Library Lunchroom Conversation Starters
The title says it all ...
... Check it out >>
MORE ORIGINAL HUMOR
Laugh yourself comatose.
Research has shown that the average librarian will take 5-10 minutes to read this web page. Anecdotal evidence is suggesting that many librarians fear they do not have enough time to investigate the humor links. The majority of the 90+ original library humor items in the Humor Index are designed to take less than 2 minutes to read. However, if you choose to hang around there for hours reading them all, then re-reading them, then WLW cannot take any responsibility. You now have the choice of using the genetically unmodified Alphabetical Index or the dolphin-safe Dewey Version. Caffeine-free version is still in beta ....
SHAMELESS SELF PROMOTION

From the Mailbox
In Brief, the quarterly journal of Legal Secretaries International Inc., have written to request permission to use Biblia's How to Be Successful at Meetings in their June edtion.
Boston Public Library's Professional Staff Association (BPL-PSA) newsletter The Real Sheet may be reprinting Biblia's Library Management Models in a forthcoming edition. At the time of writing, they were awaiting legal advice ...
... There is no more to read >>
This week's edition has a distinctly Australian flavor - probably because I couldn't get the Vegemite out from under my fingernails, and it got stuck all over the keyboard ...
A well-organized society should assure [dreamers] the efficient means of accomplishing their task, in a life freed from material care and freely consecrated to research.
Eve Curie: (translated by Vincent Sheean), Madame Curie, Pocket books, Simon and Schuster, New York, 1946, pp 352-253.
Biblia's "Guide to Warrior Librarianship" has skyrocketed from its Amazon Books sales ranking of 1,025,556 up to 94,971 in only two weeks ....
INFORMATION DISSEMINATION
According to Neilson/Net Rankings, only 63 companies were responsible for 11.3 billion Pop-up Internet advertisements. We will post the details of these 63 companies when they become available, then its up to you ...
... Report >>
The Lycos search peepshow reports that queries for prom dresses has now fallen from 19th most popular search down to 35th ...
... Who cares? >>
If you haven't read the books nominationed in the Books for Older Readers catagory for the Australian Children's Book Council (CBC) Book of the Year Awards, and don't want to find out what happens (until you actually read the book), please
This could be the URL you don't want to see ...
... URL >>
WEEK'S WORST REFERENCE QUESTION
Q: When will the Information Age finish?
(College Student)
(Found in an archive.)
... There is no more to read >>
The online Library Card Collection features the creative energies of one Michael Sauers, who writes to libraries around the world to get a library card ...
... Sigh >>
---
THE SPACE BELOW IS FOR OFFICE USE ONLY