Search this site
Site Map
Humour Index
Biblia's Guide for Warrior Librarians will be released March, 2003, by Libraries Unlimited. Click here for more information.
BUY THE BOOK!
WARRIOR LIBRARIANS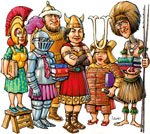 COMING SOON TO A LIBRARY NEAR YOU
Graphic by Peter Lewis
Librarian's Diversions
Librarianship Journals
Fun Stuff
Controversy Corner
Archived Feedback
Reciprocal Links
Created and Maintained by
A.B. Credaro
PAGE CREATED:
November 22, 2002
UPDATED:
May 23, 2003
---
NEWS TICKER
ARCHIVE
(Best read from bottom of page upwards)
---


Abridged library service will continue to provide complete works of literature … Unknown author offers to sign books anonymously … Librarians remove hats in effort to reduce overheads … Politician consults arborist for advice on trimming library branches ...

3 out of every 4 Denver residents have a library card … 1 in 4 Denver residents know where their card is … 1 in 10 Denver residents can find the last book they borrowed … Grade 3 boy not from Denver wins spelling bee tie-breaker with correction to "librarian" …...

Harry Potter book remains unborrowed for 3 consecutive days … Single librarian finds date on calendar … Head librarians requested to be responsible for whole bodies … College library cancels Text Book Launch by Dean of Mathematics due to lack of interest …

Platypus infestation threatens library structure … Acquaintances of the Library urged to upgrade to Friends … College student doing research uses encyclopedia … Author Talk replaced by Computer Maintenance Demonstration …

Interpol consulted after lucky staple-remover missing for 2 weeks … Fat linked to obesity in study of library patrons … Chris Whittington - your mailbox is full ...

Lucky staple-remover missing ... OPEC declines involvement in setting photocopier charges ... Study links library fires to presence of flammable books ... Tender opened to supply outreach services to Soyuz Spacecraft ...

This web site now declared SARS-free ... Retiring librarians miss golden handshake, get tin commerative spoon ... Search underway for Sandy Berman, cataloguing legend ... Lucky paperclip found under mouse pad ......

Libraries accused of stockpiling weapons of mass instruction ... Newspaper claims to have "cited unnamed source" ...Flaw found in Sun XDR Libraries ... NBC's Law & Order episode features a lost book ...

World saved from spam by Australian legislation ... Glasgow Public Library lends out HP2 over 500,000 times - still waiting for funding of second copy ... New library reading rooms becoming trendy in Europe - old rooms being reboxed into original packaging for storage in bottom of hall cupboard ...

Surgeon-General warns reading will increase literacy rates ... Movie Matrix:2 identified as metaphor for library administration ... Total indifference to news that BBCi swaps Google for Inktomi .... Memorial to former librarian neglects to mention lack of recognition during tenure ... champagne bottle cracks wall at library launch ...

International Journal of Neuropsychopharmacology releases its first swimsuit edition ... PLA mail incorrectly delivered to India's Punjab Library Association ... Increased online database subscriptions create disposal problems for culled shelving ... Maryland librarian refuses 24/7 shift in new library service .......

Astrophysicist advises of impossibility in extending library hours due to nature of time measurement .... Librarians puzzled over CT citizens vote to "balance the books" ... Retired sea captain giving away 18 million gospel books … Grammatical purists outraged by South Africa campaign for "Books to watch cricket by" ...

Public libraries accused of providing free information ... Recent survey shows 98% of Tasmanian elementary students can't spell "Saskatchewan" ... Increasing concern expressed about mental illness in libraries .... UK politician Tam (not Tom) Dalyell labeled a serial dissenter due to campaigning for extended operating hours for libraries ….............. ...

Library Chess Clubs object to manditory pawn filters ... WI library director claims to be breaking moulds ... High Court rules that "free speech" does not refer to unlimited noise in libraries ... Anti-war students boycott library - librarians very relieved ... Privacy and Piracy news clippings cause filing mayhem for dyslectic librarians ..............

Toronto librarians discover young men in library are not using computers for research ... Another journalist writes another article about librarians not conforming to the stereotype ... Political uncertainty forces 2.7% rise in cost of sticky tape ... Statistics show that borrowing of historical romance unaffected by Valentine's Day ........

Libraries unable to source books on Dixie Chicks ... Google News features over 1,310 really boring stories that include the word librarian ... OCLC does not make statement on claim that unused Dewey number has been assigned to Warrior Librarianship ... Advertised job in school library neglects to mention excessive workload ....

Joke received in library email ... Library accepts Nigerian finance offer as more likely to happen than usual budget promises ... Unused Dewey number allocated to WLW ... Library association sends box of chocolates to photocopier repair man .....

"New Bern Sun Journal" reports that being nice to people doesn't work ... Acquisition Librarians shrug shoulders at news of Harry Potter 5 release date of June 15 ... Photocopier manufacturers apologise for over-reacting to WLW comments on their products .....

Virtual Libraries to stay open over holiday period ... Library Patrons will lose Internet access over festive season due to closure of real libraries ... School librarians to be certified in some states, despite mental health clearances ... Coffee budgets to be increased after Technical Services found to be caffeine-driven ... Photocopier manufacturers outraged at negative publicity ...

Borrower thanks librarian for help recieved... Library manager thanks librarian for hard work... Bookseller takes librarian to lunch... Library board commends librarian for smooth library operation ... Photocopier works faultlessly for 10 consecutive days ... Librarian takes sick leave after becoming paranoid.....

Apos'trophe abus'e on website reported to authorities' ... Paperless library forced to close due to electricity costs ... Clinton doesn't have to testify in librarian's libel suit - is allowed to appear in jeans and sweater instead ... Genre splitting of fiction creates need for more shelf labels .... Liquid paper smudge cleaned off photocopier glass .....

Spelling mistake found on web site ... Guestbook entry shows ficticious email address ... Library Patron uses OPAC ... Cataloger agrees to add local subject heading ... Photocopier crumples after excessive percussive maintainance .....

Newly sharpened pencil point does not break on first use ... Photocopier jam fixed by swift kick ... Date due stamp re-inked without ink spillage ... Library petty cash box found to contain sufficient change to break a $10 note ... Patron finds information on web site ... Moron tries to order title from WLW Children's Literature Parody page ...

Purple-haired librarian with nose-ring fails to get media coverage for challenging stereotypes ... School Librarian appointed as Principal ... Public library gets new circulation desk before old one falls to pieces...

Cataloguer makes joke about AACR2 - nobody laughs ... Patron returns books before date due ... Library Sign mis-spelled - people asking "Quite" what? .....

---