Search this site
Site Map
Humour Index
Biblia's Guide for Warrior Librarians will be released early in 2003, by Libraries Unlimited. Click here for more information.
BUY THE BOOK!
WARRIOR LIBRARIANS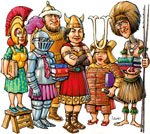 COMING SOON TO A LIBRARY NEAR YOU
Graphic by Peter Lewis
Librarian's Diversions
Librarianship Journals
Fun Stuff
Controversy Corner
Archived Feedback
Reciprocal Links
Created and Maintained by
A.B. Credaro
Page Created
January 6, 2003







---
THE WLW 2003
AUTHOR PIN-UP CALENDAR
Librarianship isn't the only profession with an image problem. What about authors? WLW is proud to present the pin-up people of the literati, as you've never seen them before ...