Search this site
Site Map
Humour Index
Biblia's Guide for Warrior Librarians will be released in 2003, by Libraries Unlimited. Click here for more information.
BUY THE BOOK!
WARRIOR LIBRARIANS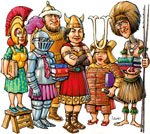 COMING SOON TO A LIBRARY NEAR YOU
Graphic by Peter Lewis
Librarian's Diversions
Librarianship Journals
Fun Stuff
Controversy Corner
Archived Feedback
Reciprocal Links
Created and Maintained by
A.B. Credaro
Page Created
March 23, 2003







Cite This:
Style Guide for Libraries
in the Real World
Following the basic formula of:
Author: Date: Title: Type of Communication: Place of Creation
WLW is pleased to present the following models of citations for information found in a typical library, but omitted from the more widely known style guides.
ANONYMOUS PHONE CALL:

Unknown Parent. (2003). Jimmy Says He Returned the Book: How Many Times Do I Have to Tell You? Voice Mail Communication at 120 decibels. Sunnyside Elementary School Library.


---

MEMORANDUM FROM LIBRARY BOARD MEMBER:

Intrigant, J.W. (2003). You Were Seen Putting Books in the Dumpster: Report to My Office Immediately. Communication #645 of #646 (2001-2003) in a series of occasional papers marked to the attendion of The Librarian, from Tuebingen Library District Board of Administration.


---

NOTE FOUND IN SUGGESTION BOX:

Author Unknown. (2003). Yous Liberrians is Uggley And Yous Recon Yous No Everithink. Unsigned letter. Clyde Public Library Suggestion Box.


---

HOMEMADE BOOKMARK:

Author Unknown. (Date Unknown). Take This List Out Of The Book Before You Return It. In Do this Today. Unbound insertion in Get Yourself Organized (HarperCollins, 2001). Mooney Ponds Public Library: Accession Number 23409586


---

GESTURE:

Author Well Known, but unnamed here pending library suspension (2003). Middle Finger With Proximal Presentation. University of Seduna Arts Library.


Assistance with citing other forms of communication is available by contacting the above.