Search this site
Site Map
Humour Index
Biblia's Guide for Warrior Librarians will be released early in 2003, by Libraries Unlimited. Click here for more information.
BUY THE BOOK!
WARRIOR LIBRARIANS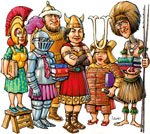 COMING SOON TO A LIBRARY NEAR YOU
Graphic by Peter Lewis
Librarian's Diversions
Librarianship Journals
Fun Stuff
Controversy Corner
Archived Feedback
Reciprocal Links
Created and Maintained by
A.B. Credaro
Page Created
March 16, 2003







---
Environmental Metamorphisis
People adopt the features of the workplace. Notice how accountants start looking like blank paper? Or doctors and nurses actually smell like hospitals? Or politicians sound like thick government documents? Consider the tragic case of Rowan McCarthy, librarian, who turned into a pile of books ...

The tradedy of The Librarian was captured in an oil painting by Giuseppe Arcimboldo. Date unknown.