Search this site
Site Map
Humour Index
Biblia's Guide for Warrior Librarians will be released late October, 2002, by Libraries Unlimited. Click here for more information.
BUY THE BOOK!
WARRIOR LIBRARIANS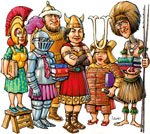 COMING SOON TO A LIBRARY NEAR YOU
Graphic by Peter Lewis
Librarian's Diversions
Librarianship Journals
Fun Stuff
Controversy Corner
Archived Feedback
Reciprocal Links
Created and Maintained by
A.B. Credaro
Page Created
December 26, 2002







---
MORE NEW BOOKS
FOR REALISTIC LIBRARIES
At Home with Books
A must-have for people who want to build a professional-looking home library at little or no cost.

Contents include:
*Getting a borrower card under a false name.
*Address redirection tips for overdue notices.
*Theft without Guilt.
Webnerd's Dictionary
| | |
| --- | --- |
| | Particularly suited to those with little or no dictionary usage experience, this book particularly caters for people with minimal vocabulary and spelling skills. |
Cataloging and Classification: More Stuff to Confuse You
| | |
| --- | --- |
| | For students of librarianship, this book will provide a comprehensive guide to the intricacies of library organization. This definitive text will guide you to formalizing your decision as to whether or not you are suited to a career in cataloging. |
Time Annual
Especially useful for people who have spent the last 12 months in a coma, or watching cable TV (or any combination of the two). Comprehensive coverage of events that other people will know about but you won't have heard of.

Libraries that have heavy comic or computer use will find that patrons may be prevented from becoming social isolates by scanning this book - provided you promote it heavily enough for them to look at it.
Careers Featuring Really Low Pay and Bad Working Conditions
| | |
| --- | --- |
| | For the masochistic or ulturistic, a range of library careers are explained in detail. Arranged alphabetically, from Acquisitions to Young Adults Librarianship, this book explains not only the specifics of specialities, but also the cross-relationship between them. |
---
To correctly cite this page:
Credaro,A.B.(2002). More New Books for Realistic LibrariesWarrior Librarian Weekly [online]
https://warriorlibrarian.com/LOL/newbooks.html [Accessed:insert date]