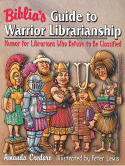 CLICK HERE
for more information about this book.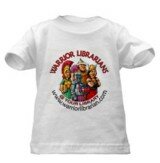 Reciprocal Links
Editor-in-Chief:
A.B.Credaro

Sub-Editor:
A.B.Credaro

Night Editor:
A.B.Credaro

Head of Production:
A.B.Credaro

Webmaster:
A.B. Credaro

Layout:
A.B. Credaro

Publicity:
A.B.Credaro

Catering:
A.B.Credaro

Hair Stylist:
A.B. Credaro

Wardrobe Supervisor:
A.B. Credaro

Correspondence to:

CONFERENCE APPEARANCES BY A.B.CREDARO


M.E.M.O.North Dakota,USA - October, 2003: Confirmed.

S.L.A.Q., Queensland, Australia - June 2004: Invitation accepted.

California, USA - November 2004: Correspondence still continuing (for two years).



---

Note: The opinions expressed herein are solely those of the author. Any resemblance to real librarians (living or dead, or somewhere in between) or real libraries, may be a coincidence - but probably not.



Biblia, the Warrior Librarian, was created by A.B.Credaro. The practice of Warrior Librarianship is common, and therefore quite possibly in the public domain. As such, it is likely to be exempt from any copyright restrictions. However, this does not limit Warrior Librarian Weekly, its agents, employees, heirs, spouses, family pets, or others connected with the zine, from trying to make an easy buck from its use.

Universal permission is granted to any website to create a link to any page on this site. Notification of such links is appreciated, but not mandatory. In other words, this would be nice, but you don't have to.

All material on this site was written by A.B. Credaro unless otherwize stated. Requests for permission to publish or circulate any content should be directed to same.



---
THIS SPACE HAS BEEN LEFT BLANK FOR YOUR ROUGH NOTES
LATE JUNE 2003: ARCHIVED EDITION
GLOBAL WARNING
Incoming Library Trash
Is there anything worse than the uninformed trying to be helpful? (Except maybe people who should know better, and don't. Or won't.)

Following hot on the footsteps of the media reports of public libraries launching Wish Lists over at Amazon (which, incidently, is not expected to hurt Amazon's sales figures - not to mention all the free publicity Amazon is getting), is the well-meant advice from some social commentators.

Public libraries should get ready to be plunged into a deluge of trash, following advice like the one that says "be sure to donate your old books, including the ones under the table. Don't be coy; you know which table I mean".

Sure, we're desperate for books, but not that desperate ...

... There is no more to read >>


LIBRARIES IN REAL LIFE
Not So Cute Any More


Acton, ON: The relative quiet of a local public library was recently shattered with blood-curdling screams and cries for help.

Although no bodily harm had occurred, the library staff were completely traumatized when confronted by an unattended child who had completely destroyed half of the L-M section of the picture books, (plus one Seuss book that had been mis-shelved by a library student on practicum, but you couldn't really blame her because she's doing extra subjects this year and she's also working part time in a Macdonald's for extra money, plus she's really helpful and the patrons like her a lot and everything) …

... There is no more to read >>

REFERENCE SERVICES
Glasses Mystery Continues



Real, and virtual, librarians are being flooded with questions about the movie Matrix Reloaded. But they aren't queries relating to the actors, special effects, the science fiction genre, or anything so unimportant.

People are asking about the sun glasses. There is so much interest in this issue, websites on the topic are springing up like mushrooms after a heavy rain on the compost heap. But reference services are not fielding questions on the purchase or optical properties. People want to know why do they need to wear them inside buildings (and even underground), but not outside? Except for sometimes.

And you see characters put the glasses on, and take them off, but where do they keep them when they're not being worn? You never see them tuck them neatly into a spectacle case. And they're certainly not hanging around their necks on a chain ….

... There is no more to read >>

LIBRARY USE
Covert Services



An otherwise excellent article encourages the general population to carefully consider their household expenditure, and look at alternative free resources.

Written by a county agent and family consumer science agent, the advice includes "use the library to learn thrift". We wonder how many may have misread this, thinking that they should use the library to learn theft ...

... There is no more to read >>



PRODUCT OF THE WEEK
Library Lie Detector

No library circulation desk should be without the hand-held Handy Truster.

As the Handy Truster is about the same size and weight as a cell phone, it can easily be kept at the Circulation Desk. And because of its appearance, it won't intimidate the average library patron, who is used to prattling on inanely into the palm of their hand.

No more to read >>
LOW BUDGET ALTERNATIVES
Book Ends

With reduced funding allocations to libraries, it is not only book publishers and jobbers who are feeling the pinch. Suppliers of library equipment are also becoming concerned about falling sales.

In an effort to conserve funds for resource purchases, librarians are utilizing alternative equipment wherever possible. Even humble book ends are now being replaced with any spare realia that might be available.

No more to read >>
BIBLIA'S ORIGINAL LIBRARY HUMOR
LATEST HUMOR PAGE
First Aid For Libraries

Everyone should learn first aid, and every library should have someone trained in advanced CPR and EAR, as well as AACR2. (Which, although not exactly life-saving, is still pretty important.)

WLW is proud to present some library-specific first aid tips, for the next time someone leaves a resuscitation mannequin on your library floor ...
... Check it out >>
MORE ORIGINAL HUMOR
Laugh yourself comatose.
WLW Reader

Research has shown that the average librarian will take 5-10 minutes to read this web page. Anecdotal evidence is suggesting that many librarians fear they do not have enough time to investigate the humor links. The majority of the 90+ original library humor items in the Humor Index are designed to take less than 2 minutes to read. However, if you choose to hang around there for hours reading them all, then re-reading them, then WLW cannot take any responsibility. You now have the choice of using the genetically unmodified Alphabetical Index or the dolphin-safe Dewey Version. Caffeine-free version is still in beta ....

MOST POPULAR BIBLIA PAGES TO DATE:
Caution: Will open in new window ...



From the Mailbox
Many thanks to the University of Wisconsin's Scout Report for bringing our attention to the 260 page pdf paper Who is Leading our Schools?: An Overview of School Administrators and Their Careers. Although there is strong evidence to suggest it's not meant to be funny, many school librarians will get a big laugh from it ...
A virtual box of chocolates for Moya, who reported on Animerica's Read or Die. Sounds pretty OK from the website publicity, if you want to buy the CD Rom with the three episodes. I don't know, I didn't want to go through the hassle of actually buying one ...
... There is no more to read >>
Some WLW readers will be disappointed that there is no new Diversion of the Week in this edition. In the interests of quality control only, the WLW Research Team spent around 40 hours over the last week re-examining a previous diversion to ensure continuity.
So you should stop whining, and consider how lucky you were to even get this week's edition of WLW. The Warrior Librarian didn't even get around to doing the ironing for the The WLW Support Team ....
There is no more to read >>
Technology is the knack of so arranging the world that we do not experience it.
Max Frisch
Quoted by Rollo May in The Cry for Myth (Norton, New York) p. 57
Now that librarian calendars are starting to lose their novelty value, maybe its time to try a new medium?

If they can make millions of dollars out of homeless people hurting each other with a video like BumFights, what sort of money could libraries generate from BunFights? The mind reels over the possibilities here …
There is no more to read >>
A HEALTHY MIND IN A HEALTHY LIBRARY?
Real, actual scientists reported in the imaginatively named journal Science that "stressed-out, aging bacteria mutate at a faster rate than calm, youthful types".
This begs the question as to the implications of this research for stressed-out, aging librarians ...
There is no more to read >>
Out of the mainstream media, The Onion offers very valuable fire safety tips, including the information "...beware the lustful fires that burn in a librarian's heart. They can rage beyond all control".
The jury is still out on deciding if this is positive or negative publicity ...
There is no more to read >>
DIGITAL COPYRIGHT LEGISLATION
The (Australian) Department of Communications, Information Technology and the Arts (DCITA) has released a Digital Rights Management Guide.
It's very lucky the Lone Ranger didn't get a government-issued assistant. To quote from the reply to an emailed request for the location of a particular document, "good luck with finding information on the website" ...
There is no more to read >>
See a previous edition if you're desperate ...
There is no more to read >>
Question everything. Learn something. Answer nothing.

Engineer's Motto
OK, so you need to get your shelving done or bring your catalog up to date. But you know that it would be much more interesting to visit Michael Moore.com ....
There is no more to read >>
---
THE SPACE BELOW IS FOR OFFICE USE ONLY