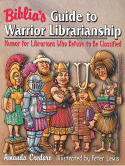 CLICK HERE
for more information about this book.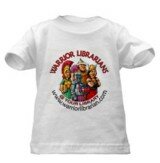 Reciprocal Links
Editor-in-Chief:
A.B.Credaro

Sub-Editor:
A.B.Credaro

Night Editor:
A.B.Credaro

Head of Production:
A.B.Credaro

Webmaster:
A.B. Credaro

Layout:
A.B. Credaro

Publicity:
A.B.Credaro

Catering:
A.B.Credaro

Hair Stylist:
A.B. Credaro

Wardrobe Supervisor:
A.B. Credaro

Correspondence to:

CONFERENCE APPEARANCES BY A.B.CREDARO


M.E.M.O.North Dakota,USA - October, 2003: Confirmed.

S.L.A.Q., Queensland, Australia - June 2004: Invitation accepted.

California, USA - November 2004: Correspondence still continuing (for two years).



---

Note: The opinions expressed herein are solely those of the author. Any resemblance to real librarians (living or dead, or somewhere in between) or real libraries, may be a coincidence - but probably not.



Biblia, the Warrior Librarian, was created by A.B.Credaro. The practice of Warrior Librarianship is common, and therefore quite possibly in the public domain. As such, it is likely to be exempt from any copyright restrictions. However, this does not limit Warrior Librarian Weekly, its agents, employees, heirs, spouses, family pets, or others connected with the zine, from trying to make an easy buck from its use.

Universal permission is granted to any website to create a link to any page on this site. Notification of such links is appreciated, but not mandatory. In other words, this would be nice, but you don't have to.

All material on this site was written by A.B. Credaro unless otherwize stated. Requests for permission to publish or circulate any content should be directed to same.



---
THIS SPACE HAS BEEN LEFT BLANK FOR YOUR ROUGH NOTES
ARCHIVED EDITION: MID JUNE, 2003
ENOUGH ALREADY
Web Site Visitors Get Lucky Break
Net surfers and information 'miners' have had it right up to here with the multimedia assault. Like, you want graphics, fine. Music, no problem. Perhaps a bit of text to rip off for homework? But do you really want to wait hours for some multimedia to download - and find it was only advertising anyway?

Although Flash and Shockwave have a place in cyberculture, what no-one really needs to see is the cyborg anchor. The talking animated salesperson, who can be inserted not only onto web sites, but also into emails.
WLW readers will be happy to hear that they have been spared the pain of a Site Pal. Of course, this act of compassion has nothing to do with the small matter of having to cough up $189.50 …
... There is no more to read >>
LIBRARIES IN REAL LIFE
Scotland Yard Seeks Book Bandit
One of Scotland Yard's most wanted criminals has been caught on security camera. Not one of your common-or-garden varieties of book thief – Peter Bellworth has knocked off thousands of rare maps and manuscripts.
Have you seen him?
But not the whole thing. He just cuts out pieces of the documents, which he then sells at a fraction of the value of the original artifact. Librarians internationally should be vigilant. Be wary of who asks for access to your archival resources. And also for anyone offering you off-cuts of old maps or manuscripts.
Although the story from the Leeds Today website does not give any information about the size of the reward offered for information, you can always ring Scotland Yard and ask ….
... There is no more to read >>
FORENSIC LIBRARIANSHIP
WLW Sniffs Out Fraud

The well-known Bonaparte Papers, which are in the custody of the Library of Congress, will shortly come under scrutiny. Well, in the sense of geological time - 2020 in fact. Access has never been granted to their scholarship, at the insistence of the Bonaparte heirs, until that date.

However, the WLW Research Team believes the papers to be a fraud, as http://home.wlu.edu/~stanleyv/19sep50.htm contains a "facsimile from Bonaparte papers" dated Baltimore 19 Sept 1850. And we KNOW they didn't have fax machines back then.

Casting further doubt on the authenticity is the statement by real, actual, author and Bonaparte Papers authority Frank R. Hartman. In his statement in a letter to the New York Review of books (http://www.nybooks.com/articles/6334), he states that this is a "poisonous distortions of fact and interpretation", although admittedly this statement was taken completely out of context, and was referring to another matter entirely. And it was written back in 1982. But that's completely irrelevant in dealing with forensic librarianship. (The age of the document, not the taking statements out of context bit. That's more in the line of research licence.)

Although evidence such as the above continues to mount, you're still going to have to wait for another 17 years to find out for sure ….




ETHNOGRAPHICS
Museum Piece
The References Institute of the University of Sydney's Ethnography Collection at the Macleay Museum includes Item ID , labelled as "bookmark", a 9cm long brass thing with ornament and bits of leather hanging off it.

The big question here is how do they know it was a bookmark? Apparently, because it was found in a book. So now I guess we can re-name bus tickets, iceblock wrappers, and all the other object d'art that get removed from print stock after being borrowed ...

No more to read >>
BIBLIOMETEOROLOGY
Mystery Unfolds
Meteorologists and climate specialists are puzzled over a recently identified phenomenon. At random times and places, library patrons mysteriously become encircled by heavy fog when reading in the library.

Despite denials by library administrators, boards, and politicians, many library staff are pointing the inky finger at aging air conditioning systems and ineffective building insulation …

No more to read >>
| | |
| --- | --- |
| ARIES: You know you are impulsive and combative. You let them put you on the Circulation Desk again, and now you're going to have to write a whole lot of crawley letters of apology. | TAURUS: You may be stubborn, but your grounded, steady demeanor makes you someone others can count on. Especially now that your colleagues have found out how personally you take unauthorised use of your stationery. |
| GEMINI: Your characteristics of flexibity and intelligence have been responsible for you getting extra shifts no-one else will do. Is it worth it? | CANCER: Your attempts to keep your moodiness under control will be appreciated by your colleagues, but they'll still keep signing the petition for your termination. |
| LEO: Your leadership qualities will come to the fore this week, when you'll be asked to chair the monthly meeting. You will be provided with a list of voting decisions prior to the meeting, so you won't have to second-guess the board's preferences. | VIRGO: Being such a natural at organization, this week you'll get to collect the donations for the retirement gift of a colleague. And also buy the present and the card, do the wrapping, take the card around the library and get everyone to sign it. And organize the cake. |
| LIBRA: Now that Mars has moved into your quarter, your abhorance of conflict will make this an evern moe difficult week in the library. | SCORPIO: That sting in your tail will transfer to your mouth this week. Get together with an Aries librarian and work on your letters of apologies together. Try to avoid conversation if possible. |
| SAGGITARIUS: Now that your need to travel and meet new people has been recognised by your library manager, you'll get to organize all his conference arrangements. With Mercury the messenger having a great influence on your sign this week, you might even get to take the luggage to the airport. | CAPRICORN: Career is a major concern for you; advancement and recognition are alluring concepts. Unfortunately, your application for promotion from Page-in-Charge of Shelving, to Head of Cataloging, will be unsuccessful. Again. |
| AQUARIUS: Your quick wit and intelligence will be viewed as threatening by your library manager this week. Try to act dumb for a few days, and mess up somewhere. It will make admin feel more secure. | PISCES: Your continual empathy for patrons with sob stories about overdue books will land you in hot water this week. You're going to have to pick at least one patron at random and ask that they pay the fine. And don't pay it yourself, like you did last time. |
BIBLIA'S ORIGINAL LIBRARY HUMOR
LATEST HUMOR PAGE
Math for the Masses
Why are the Math books so infrequently borrowed? Could it be because they are boring and dull? Where are the math fiction titles with popular appeal? Here ...
... Check it out >>
MORE ORIGINAL HUMOR
Laugh yourself comatose.
WLW Reader

Research has shown that the average librarian will take 5-10 minutes to read this web page. Anecdotal evidence is suggesting that many librarians fear they do not have enough time to investigate the humor links. The majority of the 90+ original library humor items in the Humor Index are designed to take less than 2 minutes to read. However, if you choose to hang around there for hours reading them all, then re-reading them, then WLW cannot take any responsibility. You now have the choice of using the genetically unmodified Alphabetical Index or the dolphin-safe Dewey Version. Caffeine-free version is still in beta ....

MOST POPULAR BIBLIA PAGES TO DATE:
Caution: Will open in new window ...



From the Mailbox
What gives with wordofmouth.org? An international gripe box? An authoritative information source? Yet another method of harvesting email addresses for spamming purposes? Received an email telling me that they were holding a "report" on me, submitted anonymously. To find out what was contained in the report, I'd have to complete the (free) registration. Yeah, right …
For anyone who cares enough, you could probably check it out - although it probably doesn't deserve any publicity, even here. Let me know what you think ...
... There is no more to read >>
Food for thought? Last week a prominant librarian received a stern admonishment from a line manager. No, there wasn't a stuff-up (at least, not a noticeable one), nor was there any budget over-run. The crime was that "the parameters of the brief had been exceeded". In plain-speak, this means some extra work had been completed. Sigh.
A thoughtful reply was penned, promising to "try very hard" not to do any extra work again. Strangely, it turned out that this was required response ...
There is no more to read >>
Choice is an illusion created by those in power over those who have no power.
Character in "Matrix Reloaded"
In updating emergency management plans in Cincinnati, a disaster expert has determined that libraries are dangerous places in a tornado, where books can become lethal flying objects. Unfortunately, there was no advice about what size bolt is required to securely and permanently anchor resources to shelves ...
There is no more to read >>
TECHNOLOGY:
STEALTH ATTACK
It's pretty old news that "the Google Toolbar is spyware", but over at WebmasterWorld the discussion forum has authoritative information on this issue. And they actually use it, unlike the mainstream media. Or professional journalists.)
Now, Celebrity Rants informs AOL users that their ISP is controlling their images. Not that AOL is blocking anything (unless you've requested it), but they're compressing image files to save bandwidth.
Luckily, CR also provides information on how to get around this.
There is no more to read >>
More A(ustralian)B.C. intrepid reporting covered a street survey in Tasmania - really - of the public perception of librarians and libraries.
Seems they couldn't come up with anything much better than the persistence of the stereotypical image of librarians, except perhaps from the actual real librarian that they encountered. This meant a very short article. No surprise, really ...
There is no more to read >>
DOUBLE-BARRELLED COPYRIGHT STUMPER
How much derivation is required for a derived work to not violate copyright? And how much derivation is required for the derived work to become, itself, copyright?
A collection of well-known quotes online claims that as the quotes were collected by the web author, they are now his copyright, and you have to acknowledge his copyright before you use them ...
There is no more to read >>
DISAPPOINTMENT OF THE WEEK
The information from the Children's Clinic of Southwest Louisiana on Taming Tantrum Tactics turns out to be about parenting and toddlers. It was hoped the there may have been some advice on how paroxysm can be used to exert control over other adults.
Seems like snitty librarians, and those with occassional forays into this area of behaviour modification, will just have to keep winging it for the moment ...
There is no more to read >>
Although politically incorrect gender-wize, the Shockwave version of Witch Hunt is a great little diversion for a few minutes. Although you could wait much longer for the download on a dial-up connection ....
There is no more to read >>
What was the question again?

Ozzy Osborne


This week's pick nearly made it as Diversion of the Week. But as Wacky Uses has some actual information, it didn't qualify under the rigid ISO guidelines for Library Diversions ... ...
There is no more to read >>
---
THE SPACE BELOW IS FOR OFFICE USE ONLY