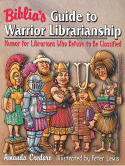 CLICK HERE
for more information about this book.
Reciprocal Links
Editor-in-Chief:
A.B.Credaro

Sub-Editor:
A.B.Credaro

Night Editor:
A.B.Credaro

Head of Production:
A.B.Credaro

Webmaster:
A.B. Credaro

Layout:
A.B. Credaro

Publicity:
A.B.Credaro

Catering:
A.B.Credaro

Hair Stylist:
A.B. Credaro

Wardrobe Supervisor:
A.B. Credaro

Correspondence to:

CONFERENCE APPEARANCES BY A.B.CREDARO


M.E.M.O.North Dakota,USA - October, 2003: Confirmed.

S.L.A.Q., Queensland, Australia - June 2004: Invitation accepted.

California, USA - November 2004: Correspondence still continuing (for two years).



---

Note: The opinions expressed herein are solely those of the author. Any resemblance to real librarians (living or dead, or somewhere in between) or real libraries, may be a coincidence - but probably not.



Biblia, the Warrior Librarian, was created by A.B.Credaro. The practice of Warrior Librarianship is common, and therefore quite possibly in the public domain. As such, it is likely to be exempt from any copyright restrictions. However, this does not limit Warrior Librarian Weekly, its agents, employees, heirs, spouses, family pets, or others connected with the zine, from trying to make an easy buck from its use.

Universal permission is granted to any website to create a link to any page on this site. Notification of such links is appreciated, but not mandatory. In other words, this would be nice, but you don't have to.

All material on this site was written by A.B. Credaro unless otherwize stated. Requests for permission to publish or circulate any content should be directed to same.



---
THIS SPACE HAS BEEN LEFT BLANK FOR YOUR ROUGH NOTES
LATE MAY 2003: ARCHIVED EDITION
OUTRAGEOUS EXAGGERATION
Bill Gates Acknowledges WLW
Sillycon Valley: A collaboration between The Bill and Melinda Gates Foundation and the Oklahoma State Library Service has resulted in a web design and construction course for a very select group of librarians from a number of public libraries.
Gates cheers WLW
Involving a significant amount of pre-course preparation, a number of tasks were required to be completed. Amongst these was the requirement to access particular library-related websites, with specific URLs provided. Near the bottom of the required list of destinations on the Information Super-Goat Track was the home page of International Association of School Libraries, on which Warrior Librarian Weekly is listed as the third link!
Think about it. Bill Gates didn't get where he is today by missing information. He was certain to have known that WLW was on the AISL website. You have to admire the subtle way he directed the state (and by association, national) library board to read WLW ...
... There is no more to read >>
LIBRARY MANAGEMENT
Zero Tolerance Librarianship
Undisclosed location: Librarians have reached the limit, tolerance-wise. They have been putting up with inappropriate behaviour, threats to personal safety, and substandard personal hygiene amongst their clientele for generations.
Library surveillance
But with the current budget reductions - now more than ever before - they are taking library theft very seriously. Unable to replace lost stock, larger internal funding allocations are being invested in security personnel and surveillance equipment.
Currently under trial is a state-of-the-art security tag, linked to an international global tracking system. The project's development manager stated it was either this, or going back to chaining books to walls.
Using satellite technology and high equipment, libraries will now be able to maximize recovery. Patrons that have legitimately borrowed material will no longer be able to claim that they have lost stuff, as the system will be able to pinpoint its location to within a few feet, globally.
Due to the expense involved in joining the new scheme, libraries will no longer be able to afford to hire staff or buy any new resources ...
... There is no more to read >>
LIFE IMITATES ART
Reluctant Reader Goes to Library
Bacon, GA: Reluctant reader, Bobby-John Jamison, nagged his parents silly until they let him have a really stupid haircut. Unfortunately, he found himself ostracized at school. Even his classmates could see that the style didn't suit him. And they had no hesitation in telling him this.
Boy with stupid haircut reads in library
But like many of the plots in children's literature, Bobby-John's bad decision had a very positive outcome. Having been excluded from his peer group and their school yard activities, he sought sanctuary in his school library. Although he would have preferred to spend his time waiting for his hair to grow out by playing computer games, he was forced by school policy to borrow a book first.
The school is now considering how they can work with the local barber to produce a flow-on effect ...
... There is no more to read >>
LATEST HUMOR PAGE
Conferences You've Missed
Like to know what's happening in the world beyond the scope of library conferences? The WLW Research Team are proud to provide you with a select list of past events that may have been of interest to you but you couldn't go because you were chained to the Circulation Desk. A brief summary of each is also proviced ...
... Check it out >>
MORE ORIGINAL HUMOR
Laugh yourself comatose.
Research has shown that the average librarian will take 5-10 minutes to read this web page. Anecdotal evidence is suggesting that many librarians fear they do not have enough time to investigate the humor links. The majority of the 90+ original library humor items in the Humor Index are designed to take less than 2 minutes to read. However, if you choose to hang around there for hours reading them all, then re-reading them, then WLW cannot take any responsibility. You now have the choice of using the genetically unmodified Alphabetical Index or the dolphin-safe Dewey Version. Caffeine-free version is still in beta ....
SHAMELESS SELF PROMOTION

From the Mailbox
Many thanks to Sami for letting us know about Bill Gates' interest in Warrior Librarianship (see story this issue).
I still haven't sent my reply to that rude woman from ALA, but the draft is now up to 12,000 words ....
... There is no more to read >>
One interesting facet of pretending to be a real journal is the fact that we get the occassional press release sent here. I'm sorry, but I just couldn't get excited about the that Yahoo! has just introduced New Yahoo! search. Maybe I'm getting just a tad jaded. Is there anyone out there who thinks we should hold ticker-tape parades for this type of thing?
There is no more to read >>
Any idiot can face a crisis - it's this day-to-day living that wears you out.
Anton Chekhov
Digital news services are reporting that Harry Potter and the Chamber of Secrets was borrowed more than half a million times. But the UK Daily Record reports that Rowling is well down the list of most borrowed authors.
The Record states that she loses out to more prolific authors and comes in in 42nd place overall and 15th among children's authors. As if Rowling cares ...
There is no more to read >>
Completely unrelated to anything concerning libraries is the Official Police Gifts web site. We are still trying to work out why the list includes items such as Tractor Equipment, Parts & Services; Escalator Parts; and Gospel Instrumentals ...
There is no more to read >>
Don't you dare laugh about the 7th World Conference for People who Stutter.
Although we did find much "food for thought" in the information that interpreters would not be available ...
There is no more to read >>
Yahoo offers , an online version of Scrabble. You need to complete the free Yahoo registration if you aren't already a Yahoo member, then click on GAMES and find the link to Literati. Here you can play against real people with fake names. You'll be further challenged by the rudeness of Angry Youth, the arrogance of Certain People, the confusion of First Time Users, the interference of The Administrator - same as in a library. But at least here, you can use your Escape key ...
There is no more to read >>
WEEK'S WORST REFERENCE QUESTION
Q: How did Kant ground his moral philosophy?
(College Student)
Suggested Answer: He used a "ground strap" consisting of an elastic band that holds a metallic contact against his wrist and from which a long, flexible wire runs to a clip that can be fastened to his theories.
Jonathan Land maintains an impressive collection of responses he has written to spam ...
... Sigh >>
---
THE SPACE BELOW IS FOR OFFICE USE ONLY