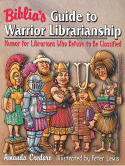 CLICK HERE
for more information about this book.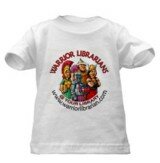 Reciprocal Links
Editor-in-Chief:
A.B.Credaro

Sub-Editor:
A.B.Credaro

Night Editor:
A.B.Credaro

Head of Production:
A.B.Credaro

Webmaster:
A.B. Credaro

Layout:
A.B. Credaro

Publicity:
A.B.Credaro

Catering:
A.B.Credaro

Hair Stylist:
A.B. Credaro

Wardrobe Supervisor:
A.B. Credaro

Correspondence to:

CONFERENCE APPEARANCES BY A.B.CREDARO


M.E.M.O.North Dakota,USA - October, 2003: Confirmed.

S.L.A.Q., Queensland, Australia - June 2004: Invitation accepted.

California, USA - November 2004: Correspondence still continuing (for two years).



---

Note: The opinions expressed herein are solely those of the author. Any resemblance to real librarians (living or dead, or somewhere in between) or real libraries, may be a coincidence - but probably not.



Biblia, the Warrior Librarian, was created by A.B.Credaro. The practice of Warrior Librarianship is common, and therefore quite possibly in the public domain. As such, it is likely to be exempt from any copyright restrictions. However, this does not limit Warrior Librarian Weekly, its agents, employees, heirs, spouses, family pets, or others connected with the zine, from trying to make an easy buck from its use.

Universal permission is granted to any website to create a link to any page on this site. Notification of such links is appreciated, but not mandatory. In other words, this would be nice, but you don't have to.

All material on this site was written by A.B. Credaro unless otherwize stated. Requests for permission to publish or circulate any content should be directed to same.



---
THIS SPACE HAS BEEN LEFT BLANK FOR YOUR ROUGH NOTES
EARLY JUNE ARCHIVED EDITION
LIBRARY PROMOTION
Have we gone to far?
Coffeyville KS: Throughout the nation, library staff have been promoting their goods and services. The intense reader education programs have emphasized care of books, the value of information, and the excellence of library services. And quite rightly so.
Children kneeling in stacks
However, concerns are now being expressed at community level that perhaps the bibliographic reverence bit has been overstated. Children have been found kneeling in supplication in the stacks (see picture).
Currently under investigation is a theory that there was a small, but significant, typographical error in a generic policy statement. Given the proximity of the V key to the F key on a standard Qwerty keyboard, it's easy to see where a simple error could be made when typing "bibliographic reference" ...
... There is no more to read >>
BUDGET AUGMENTATION
Sponsored reading mentors
Senior library patrons are getting fed up with interruptions to their library reading time, but have now joined forces with libraries to maximize the fund-raising opportunities.
Reading Grannies
With pesky kids wanting to know 'what's your name' and 'do you live here', combined with falling library budgets that are unable to purchase their preferred reading material, a new program has been launched to address both issues simultaneously.
Under the Grannies and Granddads Scheme, libraries have now organized philanthropic institutions to 'sponsor' reading mentors. By spending a few minutes reading the type of stuff kids don't want to hear, the youngsters soon go in search of their parents with demands to be taken elsewhere. In return, the mentors get first borrowing privileges on the books of their nomination.
This is an idea where everyone wins. The children receive exposure to reading material that they wouldn't normally have; the older readers get a peaceful reading time together with preferential borrowing arrangements; and the library gets some additional funding. Parents even get to have some enforced bonding time with their offspring ...
... There is no more to read >>
CAREER OPTIONS
Tall Man becomes Librarian
Countering the trend for women with vertical challenges to enter into the information professions, The Librarian (both formerly and currently) Known as Maurice appears to be quite happy working in an academic library. Library patrons are surprised to see that TLKAM not only has normal eyesight, but has also forgone the expected coiffure ….

No more to read >>
LIBARY USE
Boy Stands on Chair

College students are finding libraries offer many services beyond reading rooms, book loans and journal access. In fact, many on campus are finding that the facilities offered include tailoring advice and assistance.

With the current clothing trends demanding extra trouser length in addition to knee-height crotch positioning ...

No more to read >>
| | |
| --- | --- |
| ARIES: You know you are impulsive and combative. You can expect to get into a major fight with someone pretty soon. Avoid Circulation Desk Duty. | TAURUS: You may be stubborn, but your grounded, steady demeanor makes you someone others can count on. Except this week, when you'll throw a real snit over someone writing on your Dilbert desk calendar. |
| GEMINI: Your characteristics of flexibity and intelligence will get right up your colleagues noses this week. Keep a low profile, or take some leave. | CANCER: This week, your moodiness will cause a petition for the termination of your employment. People have had enough, already! |
| LEO: Use your leadership qualities and organize petitions against any Cancer signs in your library. The others look up to you, probably because you're a great manipulator and do fantastic self-PR. | VIRGO: With your gift for organization, you can expect to be asked to undertake a major shelving project on Tuesday or Wednesday, when Saturn moves into your quarter. |
| LIBRA: Your abhorance of conflict will make this a difficult week in the library. Seek out other Librans, and go shopping. | SCORPIO: Everyone knows that you don't forgive easily, so basically no-one will talk to you this week in case they say the wrong thing. Doesn't matter, you're used to this. |
| SAGGITARIUS: Your need to travel and meet new people will be appreciated by your library manager, who will send you out to the nearest convenience store to buy emergency supplies of sticky tape this week. | CAPRICORN: Career is a major concern for you; advancement and recognition are alluring concepts. Your selection of Library Science is therefore a complete mystery to your library manager, who will closely monitor your use of the library newspaper employment sections. |
| AQUARIUS: You possess a quick intellect and an expansive mind keen on innovation and progressive thought. See Capricorn. | PISCES: Your colleagues can't believe how easily manipulated you are. Because of your creativity, you'll get to put up the new library display, but in your lunch hour. |
BIBLIA'S ORIGINAL LIBRARY HUMOR
LATEST HUMOR PAGE
Conferences You've missed
Like to know what's happening in the world beyond the scope of library conferences? The WLW Research Team are proud to provide you with a select list of past events that may have been of interest to you but you couldn't go because you were chained to the Circulation Desk. A brief summary of each is also provided ...

... Check it out >>
MORE ORIGINAL HUMOR
Laugh yourself comatose.
WLW Reader

Research has shown that the average librarian will take 5-10 minutes to read this web page. Anecdotal evidence is suggesting that many librarians fear they do not have enough time to investigate the humor links. The majority of the 90+ original library humor items in the Humor Index are designed to take less than 2 minutes to read. However, if you choose to hang around there for hours reading them all, then re-reading them, then WLW cannot take any responsibility. You now have the choice of using the genetically unmodified Alphabetical Index or the dolphin-safe Dewey Version. Caffeine-free version is still in beta ....

MOST POPULAR BIBLIA PAGES TO DATE:
Caution: Will open in new window ...



From the Mailbox
Thanks to Joe for sending 5 copies of this month's issue of "Shy Librarian", where three pages plus the back cover of the periodical were devoted to Warrior Librarianship and the book "Biblia's Guide" ...
Also, Bill took the time to write and let me know he's on the Finance Committee, and they've been asking for more funding for the library ...
A large amount of correspondence was received from people in foreign countries who seem to think that I know something about high finance ...
... There is no more to read >>
Since the world at large was informed of my at Amazon, it seems that a lot of public libraries are now running with this idea in an effort to compensate for cuts in budgets.

A number of media reports are covering this story (about the public libraries, not my wish list over at Amazon).

This is much more useful than the media's standard "Ooh! Look! That person doesn't look like a librarian" stuff ...
There is no more to read >>
Sometimes when reading Goethe I have the paralyzing suspicion that he is trying to be funny.
Guy Davenport
PATRON RIGHTS AND RESPONSIBILITIES
The president of the Canadian Library Association was quoted in the Edmonton Journal as saying that "patrons are to blame for the 20% increase in borrowing". Errr ...
There is no more to read >>
INFORMATION DISSEMINATION
Many thanks to the Heartless Bitches website for explaining the difference between bitching and whining. Particularly useful is the information regarding which to use, and when ...
There is no more to read >>
The New Zealand Court of Appeal has determined that software libraries are protected under law. Not your standard public library's collection of programs or anything - but that computer programmers software retain ownership of pre-built reusable software routines they use to make applications commissioned by customers ...
There is no more to read >>
A semi-confusing story from SillyCon News reports on some stupid Yahoo! campaign to "Save Smiley" (the emoticon). Seems that something can be done with text messages to mobile phones to targetted geographic sites.
Couldn't this technology be put to better use, like at Senate Budget Committee Hearings on library submissions ...
There is no more to read >>
Must be a slow week for international disasters, human misery or general suffering. Otherwise it beats us why Reuters would be interested in covering the fact that Wolverine just doesn't cut it. Apparently the objection is that it includes libraries, which makes it "less than cutting edge". Didn't these people see Attack of the Clones ....
There is no more to read >>
Shockwave's new version of Water Balloon Drop moves The Dropper from the top of a bridge (yeah, like librarians climb bridges) to the top of a building (much more realistic and achievable).
Although you can no longer customize the identity of The Dropper, a greater range of target Droppees is provided, including a lady with the mobile phone and the kid with the skateboard ...
There is no more to read >>
How the hell do I know why there were Nazis? I don't even know how a can opener works ...

Woody Allen
There is no more to read >>
If you've ever been concerned about human-computer interaction, then the Mind uploading procedures are either going to put you at ease, or scare the daylights out of you ...
There is no more to read >>
---
THE SPACE BELOW IS FOR OFFICE USE ONLY